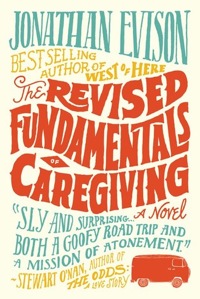 Benjamin Benjamin has hit rock bottom. So opens Jonathan Evison's novel, The Revised Fundamentals of Caregiving (Algonquin). On Ben's watch, a freak parking accident took the lives of his two children—a tragedy that ruined both his marriage and his livelihood as a stay-at-home father. Jobless, penniless, heartbroken, wracked by guilt and desperation, Ben stumbles into a night course on care giving. His loftiest ambitions: that he won't screw up the changing of bandages and the emptying of bedpans, that the terminally ill and disabled won't be as discriminating as other potential employers.
He ends up paired with Trev, a headstrong nineteen-year-old suffering from Duchenne Muscular Dystrophy (as well as an acute case of adolescent angst). After a bumpy start, the two develop a rapport. Benjamin excels at tending to Trev's basic needs, but never quite masters the professional boundaries required of his new career.  Meanwhile, Benjamin's first attempt at a post-marital romance blows up in his face. Trev's absent father makes an unexpected visit, hoping to exchange fried chicken for forgiveness. After a couple of fast-and-loose plays with expectations and professionalism, Trev's mother gives Ben the boot.
In a Hail Mary meant to salvage their friendship, Benjamin and Trev concoct an epic road trip through the Northwest in Trev's wheelchair-equipped van. Benjamin prepares for every medical eventuality. The two set off with minds full of good intentions and a map full of roadside attractions. Their well-laid plans soon come undone at the hands of the check-engine light, a mysterious follower in a Buick Skylark, and a motley crew of hitchhikers. Before they even reach the halfway point, Ben and Trev both wonder if they'll make it home at all.

The Revised Fundamentals of Caregiving contains two poles: it is at times a fast and zany road trip, at others a raw and powerful meditation on personal loss. The novel's success resides in the way it reconciles these twin impulses. In the hands of another writer, this subject matter—a down-and-out sap partly responsible for the death of his own kids—could veer into melodrama. But as he did in All About Lulu and West of Here, Evison tethers quirky humor to emotional weight, and allows both to soar.
Though the novel includes an ensemble of colorful characters, the story belongs to Benjamin. In this long-suffering, wisecracking narrator, Evison just might have created a literary icon for our times. A sort of anti-Willy Loman, Benjamin Benjamin's dreams and illusions are either cast off or scaled back. He sees his lot with full clarity—too much clarity, perhaps—and takes cold comfort in helping those who need it, one day at a time.
Rather than melancholy detachment, Ben's tragic past allows him heightened insight into fate and the human condition. As he puts it:
Listen to me: Everything you think you know, every relationship you've ever taken for granted, every plan or possibility you've ever hatched, every conceit or endeavor you've ever concocted, can be stripped from you in an instant. Sooner or later, it will happen. So prepare yourself. Be ready not to be ready. Be ready to be brought to your knees and beaten to dust. Because no stable foundation, no act of will, no force of cautious habit will save you from this fact: nothing is indestructible.
In spite of all that it took from him, the accident did grant Ben a super-sized sense of empathy. With a power like x-ray vision, he can see how close everybody else is to their own unraveling—yet he never passes judgment. Ben's soon-to-be-ex-wife, Trev's clueless deadbeat dad, even the chinless yokel broken down on the side of the road—they're all shown compassion by both the narrator and the author. In the world of this novel, the most widespread condition is imperfection, and its only treatment is to do the best you can.
With his first two books, Evison established himself as one of our greatest contemporary novelists. His writing hums with wit, humor, ambition, and passion. Above all, it's simply fun to read. This new novel may be his best work to date; certainly it's his most personal and earnest. With prose as snappy as a bumper sticker, a pace like a wide-open interstate, and a heart as big as a van, in The Revised Fundamentals of Caregiving, Jonathan Evison rides again.
---
Further Links & Resources
Read Aaron Cance's 2011 interview with Evision, "The Cruel Riddle of History."
Planning your own last-hurrah-of-summer roadtrip? Maybe you'd like Benjamin Benjamin to keep you company and remind you that running out of gas is not such a big deal. Pick up The Revised Fundamentals of Caregiving at Amazon, IndieBound, or Powell's.