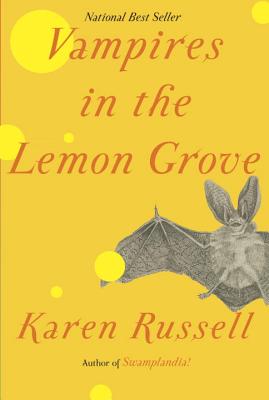 At the onset, a good book, and especially a good story collection, gives you the tools to read it. In the earliest pages, there is a contract established between reader and writer—one that is set through the narrative's tone, its authorial voice, its set of references, and sense of humor. After one story, the groundwork is laid for the rest of the text. Here, it says, in the coherence of its universe, this is the world you're entering. This is what you get.
This is especially true for a writer of unusual verve and voice like Karen Russell, whose debut story collection, St. Lucy's Home for Girls Raised by Wolves (Knopf, 2006), and novel, Swamplandia! (Knopf, 2011), established her as one of the most exciting new writers to watch.
In her latest collection, Vampires in the Lemon Grove (Knopf), Russell traffics in her now-trademark wit. In eight tightly drawn stories, she imagines fantastical worlds that stem from the bleakest realities: Japanese women- turned-factory silkworms who menstruate fabric; Rutherford B. Hayes reincarnated as a stable horse; a young boy on the nineteenth-century frontier stuck in a blizzard and approached by a shady stranger; a sympathetic masseuse whose treatment of an Iraq War veteran converts his traumatic memories as her own. The titular story epitomizes the characteristic style of prose and thematic obsessions that recur throughout the rest of the book. Though the plot lines among the eight stories differ wildly, the conceptual investigations in the first story persist and act as the glue that unifies the collection—memory, storytelling, hunger and relief, and dark flashes of humor and despair.
But sometimes a writer's greatest strength is also—at times—her greatest challenge. In this case, Russell's ability to manipulate situations into a kind of twisted fairy tale reveals both her keen originality of vision as well as an occasional over-reliance on the progression of dark, dark, and darker, with little reprieve. When the protagonist of the final story proclaims, "What followed over the next eight days progressed with the logic of a frightening nursery rhyme," he could be speaking about the collection as a whole.
With unrelenting fierceness, Russell plumbs the consciousnesses of the bullied and the perpetrators, the subjugated and the scarred. Her breadth and range, in that sense, is incredible: there is not a voice or situation she's afraid to take on, be it writing historical fiction, fantastical worlds, or other countries; writing as man, child, or someone who is centuries old; or writing from the point of view of a horse with a president's soul. But everyone, in one way or another, is trapped. And occasionally, the reader, too, needs some air from the stifling nature of the narratives.
Luckily, we find those reprieves in the black humor that checkers the landscape, such as this send-up from the point of view of some high school boys:
We broke into Vice Principal Derry's file cabinet and made depressing, irrelevant discoveries about the psychology of Vice Principal Derry—a Note to moi! Memo, for example, that read, in harsh red pen, BUY PENCIL SHARPENER.
In addition, Russell's gift with language reveals itself in particularly cool images and inventive verbs, as is the case when "Snow pummels us with its million knuckles" and "the salt water sleuthed out cuts on his legs that he had forgotten about or failed to feel until now, and he almost enjoyed the burning."
The most presiding sentiment in Karen Russell's work, the one that never flags, is the power of good storytelling. For example, the Vampirey-bat-protagonist's cheeky rejoinder one Halloween night:
I blinked down at a little blond child and then saw that my two hands were shaking violently, soundlessly, like old friends wishing not to burden me with their troubles. I dropped the candies into the children's bags, thinking: You mortals don't realize the power of your stories.
Or, this image, from our insomniac masseuse haunted with her Iraq-veteran's memory:
She pictures the story migrating great distances, like a snake curling and unwinding under his skin. Shedding endlessly the husks of earlier versions of itself.
Russell, too, with each new story, seems to be shedding the husks of earlier ones, but the underlying feeling of storytelling's importance grows larger with each new narrative. Perhaps only through her absurdist worlds, even more than realist ones, can we fully feel the urgency of storytelling as our only potential salvation—that we mortals can see no other way out.
---
Further Links and Resources: