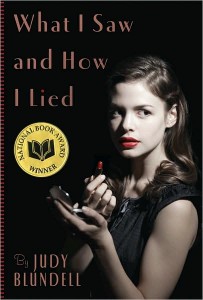 It's 1947. You're a 15-year-old girl with a movie-star gorgeous mother and a stepfather just back from World War II. Do you know what your parents are up to?
Judy Blundell is no stranger to creating the kind of tension that keeps both young people and adults turning pages, she's behind a number of highly successful series that she writes under the various pen names, including a Star Wars series for teens. Blundell's debut under her own name, What I Saw and How I Lied (Scholastic), won the National Book Award for Young People's Literature in 2008.
Evelyn "Evie" Spooner is the plucky heroine of What I Saw and How I Lied, a book that captures the transition from childhood to the often-mysterious world of adults. Evie's new stepfather, Joe Spooner, returns from the Second World War and makes good in his old Brooklyn neighborhood by opening a series of appliance stores. But a week before the start of school, Joe whisks Evie and her mother, Beverly, to Palm Beach, Florida. They check into Le Mirage, where more than the name of the hotel turns out to be illusory.
Everything changes when Joe's former war buddy, the golden 23-year-old Peter Coleridge, appears. The narration never falters as the novel's revelations come through Evie's hazy understanding of her stepfather's growing unease, her mother's afternoon shopping trips, and her youthful fascination with Peter. Evie teeters precariously between girlhood and the darker complexities of the adults around her, though she desperately wants to be taken seriously by her parents, and more importantly, by the object of her desire, Peter.
Blundell opens her book with foreboding, and nearly every review mentions its nouveaux noir feel.
The match snapped, then sizzled, and I woke up fast. I heard my mother inhale as she took a long pull on a cigarette. Her lips stuck to the filter, so I knew she was still wearing lipstick. She'd been up all night.
Blundell excels at creating mood and planting the seeds of suspense with the tiniest of details. Joe gives Evie a ruby-studded gold bracelet when he returns from Austria that immediately becomes the girl's favorite. "I never took the bracelet off, even in the bathtub. I never once thought about who'd owned it before. I was too busy pushing up the sleeves of my sweaters so everybody could see it." The very fact that Evie mentions not thinking about its previous owner, insinuates certain speculations into the reader's mind.
The title of the book, What I Saw and How I Lied, sets an expectation for revelation, but Blundell succeeds most fully when she explores that opiate of teenagers everywhere: secrecy. One of the marks of leaving childhood behind is Evie's recognition that adults do not always tell the truth, nor must she. It's an interesting reveal, not least because it's a fact so familiar to grown-up fiction as to seem too pedestrian to linger over. But awakening to this knowledge is one of life's memorable moments, and Evie's particularly troubling circumstances make her an appealing guide to teens trying to maneuver their own path. In a moment of authenticity, Peter tells Evie that she has "true north": as she begins to unravel the lies that surround her, she alone has the strength to make things right.
One question haunts Evie throughout the book: "What really happened?" It's a question Blundell's heroine poses from the opening sentence, and one that is refreshed in the reader's mind with every new plot twist. What I Saw and How I Lied answers that question not with the solution to Evie's mystery, but by embarking on another, equally inscrutable journey. It answers it with: You grew up.
Further Resources
– Read the first chapter of What I Saw and How I Lied on the author's website.
– Listen to a Book Tour podcast on NPR with Judy Blundell and other National Book Award winners, including Peter Matthiessen for Fiction, Annette Gordon-Reed for Nonfiction, and Mark Doty for poetry.
– Pick up your copy of What I Saw and How I Lied at a local indie bookstore.
– Watch Judy Blundell's acceptance speech at the 2008 National Book Awards ceremony: