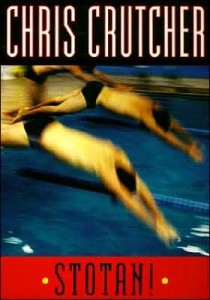 I picked up Chris Crutcher's Stotan! on an early-morning flight to Boston, ready to mock both the book and the 10-year-old version of myself who loved it. Starting with the exclamation point in the title and some early cumbersome exposition (which includes a very excellent and totally non-ironic mention of Tom Selleck as a sex symbol), I was sure the book would be dated and ridiculous and that I was in for a very good time.
Of course, 180 pages later, I was in tears as I returned my tray table to the upright position.
Stotan! is the story of a handful of swimmers during their senior year in a Spokane high school. It was published in 1986, one of the first trickles of Crutcher's eight-books-and-counting stream of YA novels. His work, deemed controversial for adult subjects and themes, has been censored multiple times and even landed on the ALA's list of most-challenged books.
Stotan! is firmly in that camp. It takes on some heavy stuff — domestic violence, racism, death — with surprising grace. Its main characters (Nortie, Lion, Jeff, Elaine and Walker, the first-person narrator) are going through a coming-of-age year as they prepare to leave Spokane and, as Walker tells us in the slightly awkward first chapter, they "plan to do some big-league butt-kicking before this year is over." The school is ending the swim program after this group of talented swimmers leaves, and an air of finality and sadness pervades the book. A "Stotan" is shorthand for stoic and Spartan, and the team's wise trainer Max puts together a "Stotan Week" that serves as an introduction to the characters.
Crutcher's writing is occasionally tone-deaf. Some inconsistent language for 17-year-old boys pops up in the beginning, with Walker calling his friends "really special guys" and asking, "so what's your beef," but the writing breathes easier as the action accelerates. And for every "really special guys"-type transgression, Crutcher earns a point for his light touch with the plot. Walker's crush on Elaine, Nortie and Lion's troubled family lives, a major illness in one of the characters — all of these storylines are handled beautifully. Actually, the non-teenage language weakness points to one of Crutcher's strengths: he is talking to kids like adults in this book, for better or worse.
There is something sweet and uncomplicated about Stotan!d—especially about these friends' love and commitment to each other. It's something I look for now in adult novels about friendships, but rarely find. You understand why these boys are friends, and there is a believability and an effortlessness to their interactions (if not all of their dialogue) that many adult writers, myself included, would rightfully envy.
Crutcher doles out a little morality, but it's not brushed up and polished for kids. In fact, it's pretty harsh. In the last third of the book, as things begin to get very serious for the swimmers, the Yoda-like Max offers this advice to Walker in a van in a midnight snowstorm:
"… no matter how decent you are, no matter how intensely you work toward the light, nothing changes the past. This is a world where you pay for everything you do. Remember that. Life doesn't forgive you because you're young and ignorant. Life only has to be true to itself."
By the end of the book, my plane touching down at Logan, I figured out why I must have loved this book, even though I was most emphatically not a sports kid. (I was a books kid, of course.) Sports must be such a perfect deus ex machina, because they provide their own pacing, their own plot and sense of timing, a built-in climax, a clear denouement. But Crutcher clearly did not graduate from the Lurlene McDaniel School of Teen Death Books, in which beautiful, brave, bald girls on cancer wards must always find their way at the end.
Instead, he ends Stotan! on a decidedly unsettled note, with no neat knots tied up other than the team's turn at the state swim meet, and even that is a bittersweet victory. Life-or-death questions hang in the balance, and Crutcher leaves them out there, flapping bravely, for readers to answer on their own. That's a big vote of confidence in a kid.
For Further Reading: