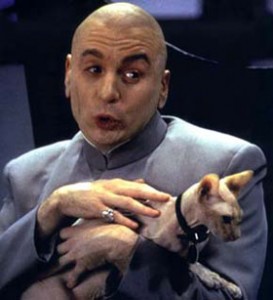 You know how in the movies, every super-villain has a sweet side? Like a cat to dote on, or a lovely patch of garden to tend, or a puppy to kiss—in between ordering assassinations or blowing up planets or stages in the Master Plan to Take Over the Universe.
Well, Amazon's got one too, and it goes beyond being sweet: it's actually doing good.
The Lambda Literary Foundation, the country's leading national nonprofit organization for the LGBT literary community, recently announced that it has received a grant of $25,000 from Amazon.com:
The grant will support the Writers' Retreat for Emerging LGBT Voices, to be held August 8th through August 15th, 2010 at the American Jewish University in Los Angeles.

Established in 2007 as the newest program of LLF, the Writers' Retreat is the first of its kind ever offered to LGBT writers: a one-week intensive immersion in fiction, nonfiction or poetry taught by some of the gay community's most talented and celebrated authors and instructors.
The press release notes that LLF is just one of several not-for-profits receiving support from Amazon; others include Pen American Center, the New York Writers Coalition, National Novel Writing Month, Poets & Writers, the Association of Writers and Writing Programs and the Asian American Writers Workshop.
I know, I know—there are still plenty of reasons to criticize this retail giant's role in the book world, but I have to applaud Amazon for supporting these worthy writers' organizations.
Via.