As a huge fan of Munro and Dzanc, I'm especially excited about Andrew's picks for this month. (This is what the world will look like when there is too much happiness!)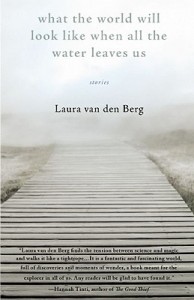 – Indie Pick: Laura van den Berg's debut, What the World Will Look Like When All the Water Leaves Us (Dzanc) / description (via ABC):
A failed actress takes a job as a Bigfoot impersonator. A botanist seeking a rare flower crosses paths with a group of men hunting the Loch Ness Monster. A disillusioned missionary in Africa grapples with grief and a growing obsession with a creature rumored to live in the forests of the Congo. And in the title story, a young woman traveling with her scientist mother in Madagascar confronts her burgeoning sexuality and her dream of becoming a long-distance swimmer. Rendered with precision and longing, the women who narrate these starkly beautiful stories are consumed with searching for absolution, for solace, for the flash of extraordinary in the ordinary that will forever alter their lives.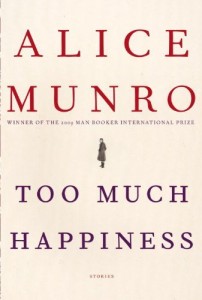 – Big House Pick: 2009 Man Booker Prize-winning Alice Munro's Too Much Happiness / description (via ABC):
In the first story a young wife and mother receives release from the unbearable pain of losing her three children from a most surprising source. In another, a young woman, in the aftermath of an unusual and humiliating seduction, reacts in a clever if less-than-admirable fashion. Other stories uncover the "deep-holes" in a marriage, the unsuspected cruelty of children, and how a boy's disfigured face provides both the good things in his life and the bad. And in the long title story, we accompany Sophia Kovalevsky—a late-nineteenth-century Russian émigré and mathematician—on a winter journey that takes her from the Riviera, where she visits her lover, to Paris, Germany, and Denmark, where she has a fateful meeting with a local doctor, and finally to Sweden, where she teaches at the only university in Europe willing to employ a female mathematician.