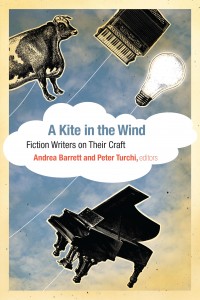 This week's feature is A Kite in the Wind, edited by Andrea Barrett and Peter Turchi. Published this spring by Trinity University Press, the book is the most recent title in a series of craft books that are drawn predominately from lecturers given as a part of the Warren Wilson MFA program. Previous collections include Poets Teaching Poets: Self and the World, edited by Ellen Bryan Voigt and Gregory Orr, and Bringing the Devil to his Knees: The Craft of Fiction and the Writing Life, edited by Charles Baxter and Peter Turchi. The series has also published anthologies of both poetry and fiction, such as Hammer and Blaze and The Story Behind the Story.
In his recent guest blog post for Fiction Writers Review, Peter Turchi describes the series and this new book in particular. He writes:
In this new book, we wanted to combine writers who have taught in the program for years (Baxter, Kevin McIlvoy, Karen Brennan, Lan Samantha Chang) with some who have joined the faculty more recently (Anthony Doerr, Stacey D'Erasmo, Dominic Smith, Maud Casey). But most of all we wanted to gather a rich variety of essays, some bringing fresh perspectives to topics so familiar that we may have stopped thinking about them (as in Wilton Barnhardt's essay on the many options available within the first person point of view, Megan Staffel's consideration of change in character, and Robert Cohen's entertaining contemplation of character names), others adding new topics to the conversation (McIlvoy on imminence; D'Erasmo on intimacy; Baxter on lushness).

While all of the lectures were revised for the page, we tried to retain some of the oral qualities that made them appealing and memorable. Many lectures at Warren Wilson refer to previous lectures given at the same residency or in the recent past, providing a sense of accumulation and interconnectedness. Maybe someday we'll return to that idea of a multi-genre anthology, a book that captures that sense of writers listening and responding to one another.

While the anthologies are very much products of a particular writing program, they are intended for a broader audience, one including fellow writers, graduate students, former graduate students, and others interested in studying writing who may be unable or disinclined to enroll in an MFA program. As is true of the other collections, A Kite in the Wind isn't meant to be a handbook or instruction manual; none of the contributors set out with the intention of restating "rules," or telling anyone how fiction must be written. The goal is more ambitious, the impulse more generous: to promote and add to an unending conversation—in this case, a conversation about what fiction is, what it can be, how it works, and why it matters.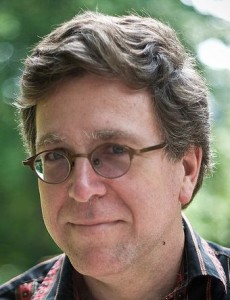 For more on A Kite in the Wind, including a table of contents that shows the range and breadth of the craft essays collected in this anthology, please click here.
You can also read Peter Turchi's wonderful craft essay on the art of disclosure and the delivery of information in fiction, "You and I Know, Order is Everything," which we published in 2010.
Win one of three signed copies of this book, which we'll be giving away next week to three of our Twitter followers.
To be eligible for this giveaway (and all future ones), simply click over to Twitter and "follow" us (@fictionwriters).
To all of you who are already fans, thank you!