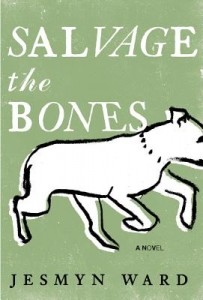 This week's feature is Jesmyn Ward's National Book Award winning novel, Salvage the Bones, which was published last year by Bloomsbury. Ward is also the author of Where the Line Bleeds (Agate, 2008), which was an Essence Magazine Book Club selection, a Black Caucus of the ALA Honor Award recipient, and a finalist for both the VCU Cabell First Novelist Award and the Hurston/Wright Legacy Award.
Ward received her MFA from the University of Michigan in 2005, was a Stegner Fellow from 2008-2010, and served as the 2010-2011 John and Renée Grisham Visiting Writer in Residence at the University of Mississippi. She is currently an Assistant Professor of Creative Writing at the University of South Alabama.
If this all sounds vaguely familiar to you, dear reader, it should–we featured Ward's novel as our book of the week selection in early September, just a few days after it was published. Back then, we were already big fans of Ward's work. Contributor Nico Berry sat down with Ward in 2009, while they were both in San Francisco together during Ward's Stegner Fellowship, and conducted a wonderful interview for us entitled "Getting the South Right." We've been following her since.
So we couldn't have been happier when Ward won the
2011 National Book Award
last November. And we were equally pleased to have the honor of hosting her for a booksigning at the 2012 AWP Writers Conference in Chicago last month.
In fact, it is because of this booksigning that we've decided to once again feature Salvage the Bones as our Book-of-the-Week title. During the event, Ward was kind enough to sign five copies of the book for us, and we're excited to give them away to our readers.
Thanks to everyone who attended the signing itself, or who dropped by the FWR table during AWP to say hello. This annual conference is one of the few chances we have to connect with our writers and our readers. So it was great to see so many of you!
We'd also like to take this opportunity to thank our writers, whose wonderful work makes this site possible. Each year our annual AWP photo features more contributors–from just a handful of individuals at our first AWP conference in Chicago in 2009 to the dozens who gathered for the photo this year. And our readers have grown, as well. So to everyone who continues to read and to be a part of this conversation about fiction, you have our thanks.
To read Nico Berry's interview with Ward, click here.
You can also win one of five, signed copies of this book, which we'll be giving away next week to five of our Twitter followers.
To be eligible for this giveaway (and all future ones), simply click over to Twitter and "follow" us (@fictionwriters).
To all of you who are already fans, thank you!