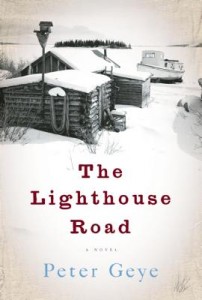 Our current feature is Peter Geye's new novel, The Lighthouse Road, which was published by Unbridled Books in October. He is also the author of Safe from the Sea. Geye received his MFA from the University of New Orleans and his PhD from Western Michigan University, where he was editor of Third Coast. He's also worked as a bartender, banker, bookseller, copywriter, and cook. Born and raised in Minneapolis, he continues to live there with his wife and three children.
In the introduction to his recent review of The Lighthouse Road, Contributor Aaron Cance writes:
Set at the cusp of the twentieth century, The Lighthouse Road is a masterfully reconstructed landscape that has long since been washed away by passing time. It is generously haunted by a broad cast of very real, old-world souls who inflict love and pain upon one another with the acuteness possible only in the closest of human relationships. A study of human nature nearly as stark as the frigid landscape upon which it is set, the narrative of Geye's second novel is thoroughly engaging from the opening pages.
We're giving away a copy of The Lighthouse Road to three of our Twitter followers. To be eligible for this giveaway (and all future ones), simply click over to Twitter and "follow" us (@fictionwriters).
To all of you who are already fans, thank you!
---
Further Reading
Read the rest of Cance's review of The Lighthouse Road.
Browse Cance's reviews and interviews on FWR, including conversations with Melanie Rae Thon, Bruce Machart, Jonathan Evison, and Jacob Paul.