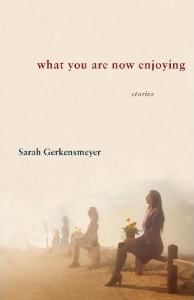 This week's feature is Sarah Gerkensmeyer's debut collection, What You Are Now Enjoying, which was selected by Stewart O'Nan as winner of the 2012 Autumn House Press Fiction Prize and has been longlisted for the Frank O'Connor International Short Story Award. A Pushcart Prize nominee and a finalist for the Katherine Anne Porter Prize in Short Fiction and the Italo Calvino Prize for Fabulist Fiction, Sarah has received scholarships to the Bread Loaf Writers' Conference, Ragdale, Grub Street, and the Vermont Studio Center. Her stories have appeared in Guernica, The New Guard, The Massachusetts Review, Hayden's Ferry Review, and Cream City Review, among others. Sarah is the 2012-13 Pen Parentis Fellow. She received her MFA in fiction from Cornell University and now teaches creative writing at State University of New York at Fredonia.
In Maria Mutch's recent conversation with the author, the two writers discuss the junction between the domestic and the weird in Gerkensmeyer's stories, as well as the importance of residencies, writing in bursts, and how narrators reveal themselves. In response to a question about the role of fabulist elements in her work, Gerkensmeyer says:
I can't point to a conscious moment in my writing life where I thought I needed to start using fabulist elements. I think that "Hank" is my first story that took on a surreal quality and it's so funny to think back on it because I remember sitting in my little room, and just not being blown away that suddenly this was a story about a baby who speaks. I'm confused by that moment, and the absence of shock, but I'm actually really glad that it happened that way, that it wasn't this moment where I thought I was making a shift in my writing and things are going to be off-kilter in a very exaggerated way. And with your thoughts of the domestic, I start to wonder if I'm using those strange elements to complicate this idea of comfortable domesticity and status quo. The fantastic is a way for me to challenge our sense of what we're comfortable with and who we are.
We're happy to announce that we'll be giving away a copy of What You Are Now Enjoying to three of our Twitter followers. To be eligible for this giveaway (and all future ones), simply click over to Twitter and "follow" us (@fictionwriters).
To all of you who are already fans, thank you!
---
Links & Resources