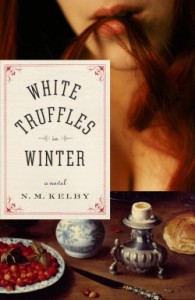 This week's feature is N.M. Kelby's new novel, White Truffles in Winter, published this month by W.W. Norton. Kelby is the author of five previous books of fiction: A Travel Guide for Reckless Hearts: Stories (Borealis Books, 2009), Murder at the Bad Girl's Bar and Grill (Crown, 2008), Whale Season (Three Rivers Press, 2006), Theater of the Stars (Hyperion, 2003), and In the Company of Angels (Theia, 2001). She's also the author of The Constant Art of Being a Writer: The Life, Art and Business of Fiction (Writer's Digest Books, 2009). Her short fiction has appeared in such places as Zoetrope: All-Story, One Story, Minnesota Monthly, Verb, and The Mississippi Review, as well as having been anthologized in New Stories from the South: Best of 2006.
In her recent review of White Truffles in Winter, contributor Lauren Hall writes:
There is a moment during a perfectly paced, perfectly executed meal when everything transcends. The diners look up from their plates —wine-drugged, conversation-lulled—and gaze at each other in wonder. Reality has shifted, and everything is beautifully, impossibly suspended.

N.M. Kelby's White Truffles in Winter (W.W. Norton) is the literary equivalent of that moment.

A fictional exploration of the life of acclaimed French chef Auguste Escoffier, Kelby's latest novel is served in courses. We begin with the young Escoffier's seduction of his new wife, the poet Delphine Daffis, at a kitchen table in Cannes. We encounter his famous friends, patrons, and lovers (most notably the mercurially divine Sarah Bernhardt) as his culinary star rises. We journey into the famed kitchens of the Savoy and the Ritz, where Escoffier revolutionized fine dining. And we linger with champagne ghosts at Escoffier's retirement villa in Monte Carlo, unsure of whether we'll ever be ready to end the meal.

There's no doubt the food writing here is first-rate. In the pages of Escoffier's imagined memoir, we learn how to humanely drown langoustines in Moët, the proper way to serve cherries jubilee to a queen (hint: never with ice cream), and why naming a sausage after Jesus is generally good for business. But the real story is not, as the fictional Escoffier suggests, "A Memoir in Meals," but rather a memoir in women.
To finish reading Hall's review of this novel, please click here.
Read the first several chapters of White Truffles in Winter on the W. W. Norton website.
Visit Kelby's website – nmkelby.com – for tour dates, information about her other books, and an audio excerpt of her reading from the new novel.
You can also win one of three copies of this book, which we'll be giving away next week to three of our Twitter followers.
To be eligible for this giveaway (and all future ones), simply click over to Twitter and "follow" us (@fictionwriters).
To all of you who are already fans, thank you!