Welcome to the latest installment of "First Looks," which highlights soon-to-be (or just) released books that have piqued our interest as readers-who-write. We publish "First Looks" here on the FWR blog mid-month, and as always, we'd love to hear your comments on and recommendations for forthcoming titles. So please drop us a line with buzz-worthy titles: editors(at)fictionwritersreview(dot)com. Thanks in advance.
---
Because we devote the entirety of May to celebrating Short Story Month, we invariably miss a few great novels during this time. So before we go any further, here's a quick look back at two books I wish we could have covered:
First, Philipp Meyer's newest novel, The Son (Ecco/Harper Collins). This book received lots of industry buzz this past winter, and has continued to garner positive reviews since its release in late May, most notably in last week's New York Times. In his review of the book, Will Blythe concludes, writing: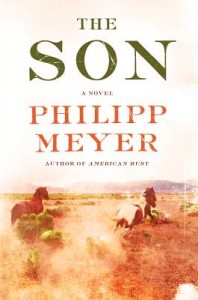 By the novel's end, Philipp Meyer has demonstrated that he can write a potboiler of the first rank, aswirl with pulpy pleasures: impossible love affairs, illicit sex, strife between fathers and sons, the unhappiness of the rich, the corruptions of power. (It might have been called "Gone With the Oil.") But these crowd-pleasing qualities should not distract from Meyer's Spenglerian treatment of the American empire, Southwestern branch. Only in the greatest of historical novels do we come to feel both the distance of the past and our own likely complicity in the sins of a former age, had we been a part of it. To that rank, we now add The Son.
I've taught Meyer's previous novel, American Rust, in my Rust Belt Narratives course at the University of Michigan for the last several years. It's always a student favorite. A gritty, unsentimental, deeply internalized book whose narrative is propelled forward by an accidental killing in a small, Pennsylvania steel town, the novel is a beautiful exploration of loyalty to place, the way we rationalize our actions to protect the people we love, and what a post-American landscape (to borrow a phrase from Rebecca Solnit's 2007 Harper's essay "Detroit Arcadia") might look like with the collapse of American industry in the late 20th century.
I won't predict connections between the two books as I have yet to dive into The Son–it's at the top of my proverbial nightstand pile, now that we're headed into summer–but I am intrigued by the recurring themes that Blythe points to in his review of the new book. If Meyer's handling of these preoccupations is as skillful as in his last one, then this novel promises a superb read. One I look forward to.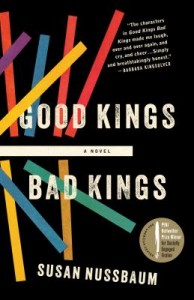 Another title I wish we'd had the opportunity to cover is Susan Nussbaum's debut novel Good Kings Bad Kings (Algonquin Books), which won the 2012 PEN/Bellwether Prize, established by Barbara Kingsolver in 2000 to "promote fiction that addresses issues of social justice and the impact of culture and politics on human relationships." This is a biennial prize, and previous winners include: Donna Gershten in 2000 for Kissing the Virgin's Mouth (HarperCollins); Gayle Brandeis, 2002,The Book of Dead Birds (HarperCollins); Marjorie Kowalski Cole, 2004, Correcting the Landscape (HarperCollins); Hillary Jordan, 2006, Mudbound (Algonquin Books); Heidi W. Durrow, 2008, The Girl Who Fell From the Sky (Algonquin Books); and Naomi Benaron, 2010, Running the Rift (Algonquin Books).
Nussbaum, who is principally a playwright, has crafted a novel, according to the publisher, that "reveal[s] the complicated and punishing life inside the walls of an institution for juveniles with disabilities." The judges for this year's contest were Rosellen Brown, Margot Livesey, and Kathy Pories. Here is an excerpt from the Judges' Citation:
From Yessenia, who dreams of living beyond the walls and of her next boyfriend, to Teddy, who dresses daily in a full suit, to Mia, who guards a terrifying secret, to the data entry clerk Joanne, who worries about each and every kid, Nussbaum crafts a multi-faceted portrait of a way of life hidden from most of us. In this human warehouse on Chicago's South Side, friendships are forged, trust is built, and love affairs begin. And it's in their alliances that the residents of ILLC ultimately find the strength to resist their mistreatment and fight back.
Check out Mary Westbrook's 2010 interview with former PEN/Bellwether winner Heidi Durrow for Fiction Writers Review.
Looking ahead, here are two June titles that are just releasing and worth noting: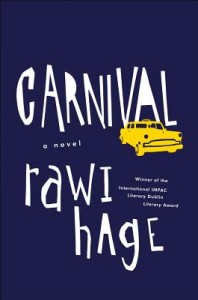 Rawi Hage's third book, Carnival (W.W. Norton), is being published this week. I first met Hage in Bulgaria, during the summer of 2009. He was a guest at the Sozopol Fiction Seminars, where I was a fellow, as well as finishing up a book tour with his Bulgarian publisher for his debut novel, DeNiro's Game (Anansi, 2006), which won the IMPAC Dublin LIterary Prize in 2008. While at the seminar together, we spoke about his first book and his then-forthcoming second, Cockroach. In an interview that would later appear in Glimmer Train, he told me that he felt "a writer's mission is to push the limits."
He went on to say:
It's such a cliché, right? But I write with a certain vengeance and certain convictions. I'm driven. I'm a confrontational writer. I like to be that way. For me writing is a battle, and the more marginal I tend to feel, or the more marginal my characters are, the more I excel in my writing. Writers who try to please and go by the rules and try to do the right things, they tend to fail, I think.
Hage, who was born in Beirut and lived through nearly a decade of the Lebanese civil war before immigrating to New York in the 1980s, prior to his more recent move to Montreal, has continued to write characters who find themselves in precarious circumstances, who find themselves between borders or cultures. His newest, Carnival, is about Fly, "the love child of a trapeze artist and a magic carpet rider," who "earns a living by driving a taxi in a city that plays host each year to Carnival." This being one of Hage's books, I'm anticipating a dark undercurrent to the narrative, an exquisite attention to language, and a probing exploration of where cultures intersect. Also on my to-be-read list.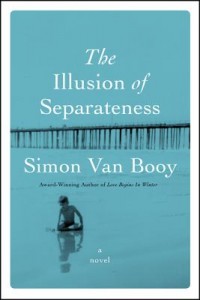 Lastly, out next week is Simon Van Booy's much-anticipated new novel The Illusion of Separateness (Harper). He is also the author of the collections Love Begins in Winter (2009), which won the Frank O'Connor International Short Story Award, and The Secret Lives of People in Love (2010), as well as the novel Everything Began After (2011). Van Booy is an evocative, beautiful writer, and someone who thinks about craft in all its forms.
In response to a question from Josh Bodwell in his 2011 interview with the author on how the process of writing stories and novels differs, Van Booy offers:
For me, a novel is like a city coming to life around you—but a world one can never really inhabit. A short story is a late-night conversation with a stranger in the park: very immediate, intimate, fleeting. Writing a novel is different. It's really all inspired revision. Did you know that the John Harrison clocks from the early 1700s required about eight hours to disassemble and about the same time to reassemble? Sixteen hours of non-stop labor all to make one tiny adjustment. Writing a novel is worse. It has to become an obsession—and where would we be without Harrison's clocks? "Lost at sea," I hear you murmur.
Van Booy's new novel takes place during World War II, and it's a story inspired by harrowing and hauntingly true events. The book's cast of characters includes a German infantryman, a British film director, a blind museum curator, Jewish-American newlyweds, a lost child, and a caretaker at a retirement home for actors in Santa Monica. All told–from a glimpse at the early pages of my copy–in Van Booy's characteristically compelling prose. I eagerly await settling in with the story.
Four very different books here, dear reader. And just the slightest sampling of the many notable titles recently released or forthcoming. But we'll hope that you find one or some or–better yet–each of these novels intriguing enough to make it on to your summer reading list, as well.