Hello again, FWR friends. Welcome to the latest installment of our "First Looks" series, which highlights soon-to-be released books that have piqued my interest as a reader-who-writes. We publish "First Looks" here on the FWR blog around the 15th of each month, and as always, I'd love to hear your comments and your recommendations of forthcoming titles. Please drop me a line anytime: erika(at)fictionwritersreview(dot)com, and thanks in advance.
---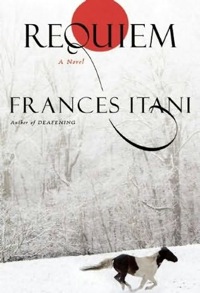 Requiem, by Frances Itani: We try to spotlight emerging authors here at FWR, and I thought I was living up to that mission when I began looking into Requiem, by the Canadian author Frances Itani (Atlantic Monthly Press releases the book early next month). But I soon learned that my familiarity with the Canadian literary scene is even weaker than I realized: Itani is, in fact, an "acclaimed" writer with a shelf full of books to her credit. Requiem, which was published in Canada last year, is her fourth novel. What draws me to this book is its focus on something else I hadn't understood sufficiently about Canada: I'm familiar with the shameful episode of the internment of Japanese Americans during World War II—I've even taught college students about President Franklin Delano Roosevelt's Executive Order 9066 and President Gerald Ford's Proclamation 4417 (the latter essentially apologized for the internment decades later)—but I hadn't thought much about the fact that parallel events had unfolded in Canada. Requiem helps me remedy that gap in my knowledge through its protagonist Bin Okuma, a man who as a child experienced that internment to the north. The book travels through memory and history as, in 1997, Bin himself travels west across the country on a quest for what he lost as a child.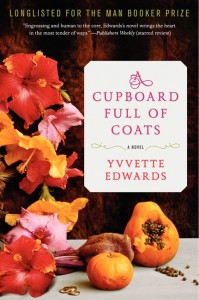 A Cupboard Full of Coats, by Yvvette Edwards: Next up: a book by an author I can be positive belongs within the "emerging writer" category. How can I be so sure that Yvvette Edwards is a debut novelist? Because Poets & Writers has told us so, featuring Edwards and A Cupboard Full of Coats in its "First Fiction" section in the July /August 2012 issue. Edwards—inspirationally an over-40 debut author—lives in London; her novel was published in the U.K. last year, long-listed for the Man Booker Prize, and shortlisted for the Commonwealth Prize. It's coming at the end of July from HarperCollins imprint Amistad, which describes it, briefly, as follows: "at once a poignant family drama and a gripping mystery—page-turning literature with an exhilarating infusion of noir. It is the story of Jinx, who believes she played a pivotal role in her mother's murder, until an old acquaintance appears at her door with seductive air, a long, strange story, and, quite possibly, the bitter truth."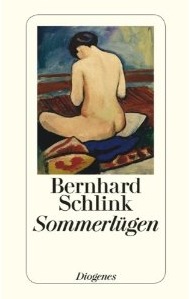 Summer Lies, by Bernhard Schlink: Also coming soon: a new short-story collection from Bernhard Schlink, the German jurist-turned-author who gained literary fame through The Reader. Translated by Carol Brown Janeway, the new book, to be released mid-August by Pantheon, is titled Summer Lies. Library Journal's Barbara Hoffert caught my attention with this Prepub Alert: "Author of The Reader, a mega-best-selling novel worldwide, Schlink triumphs in short fiction as well. It's thrilling to hear that he's back with a new collection over a decade after the compact, insightful Flights of Love. That collection dealt with love in all its twistedness (e.g., an East German husband informs on his wife as a way to protect her), so you can imagine how he deals with lies." Well, I guess we'll all find out soon enough!
---
Further Resources
Read a review of Frances Itani's Requiem in Quill & Quire, "Canada's magazine of books and reviews."
Watch and listen to Yvvette Edwards reading from A Cupboard Full of Coats.
Read a BBC interview with Edwards about the story behind her book.
Goodreads has archived a host of quotations from Bernhard Schlink (mainly taken from The Reader).