Hello again, FWR friends. Welcome to the latest installment of our new blog series, "First Looks," which highlights soon-to-be released books that have piqued my interest as a reader-who-writes. We publish "First Looks" here on the FWR blog around the middle of each month, and as always, I'd love to hear your comments and your recommendations of forthcoming titles. Please drop me a line anytime: erika(at)fictionwritersreview(dot)com, and thanks in advance.
---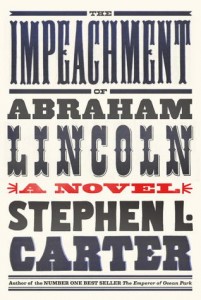 The Impeachment of Abraham Lincoln, by Stephen L. Carter: This one will be published just after Independence Day, but it caught my eye back in January thanks to Barbara Hoffert's "PrePub Alert" overview: "There's trouble for President Abraham Lincoln in this imaginatively conceived alternate history. After he survives Booth's assassination attempt, he's accused of violating the Constitution in his conduct of the war and faces impeachment. His defense team includes a young black woman, just graduated from Oberlin, who's enjoying the opportunity to flummox purse-lipped Washington society until one of Lincoln's lead lawyers is murdered." The author holds a "day job" as the William Nelson Cromwell Professor of Law at Yale, so you can bet that the legal details will be authentic. And if you, too, enjoyed Philip Roth's The Plot Against America or Michael Chabon's The Yiddish Policemen's Union, you may be especially eager to immerse yourself in another counterfactual fiction that will indeed require you to "suspend your disbelief," as we're fond of saying around here.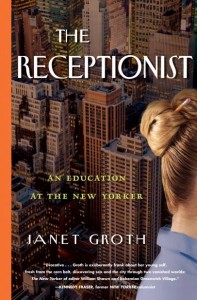 The Receptionist: An Education at The New Yorker, by Janet Groth: If you subscribe to The Writer magazine, you'll see my review of this memoir there in the not-too-distant future. I can't provide a full-blown spoiler, but I thought I'd mention this soon-to-be-published book here, too, not least because few phrases evoke such a web of reactions, emotions, and aspirations among us writers as those words: the New Yorker. Groth began working at the magazine in 1957, and the book is being marketed as providing another glimpse into the Mad Men milieu.
---
Further Reading
Speaking of the New Yorker: Thomas Mallon wrote about alternative history for the magazine last fall. The full text is paywall-protected, but you can listen to Mallon talk about the subject on this podcast.
For more examples of Lincoln-focused fiction, consult this list from the Illinois Humanities Council (thanks to D.G. Myers for leading me to it).
Here's a brief excerptfrom The Receptionist.