Hello again, FWR friends. Welcome to the latest installment of our "First Looks" series, which highlights soon-to-be released books that have piqued my interest as a reader-who-writes. We publish "First Looks" here on the FWR blog around the 15th of each month, and as always, I'd love to hear your comments and your recommendations of forthcoming titles. Please drop me a line anytime: erika(at)fictionwritersreview(dot)com, and thanks in advance.
---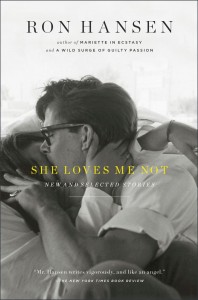 I became acquainted with the work of Ron Hansen back when I was an MFA student and Hansen's superb Nebraska: Stories (1994) was assigned for a craft seminar on "shaping your book." I'm intrigued that some of those stories will be included in She Loves Me Not: New and Selected Stories, which Scribner is publishing today. Check out the starred review from Publishers Weekly and see if you aren't tempted to add this one to your TBR list.
Back on the more "emergent" side of things: Tehila Lieberman's Venus in the Afternoon will also be released this week. The book is being published by the University of North Texas Press as a winner of Katherine Anne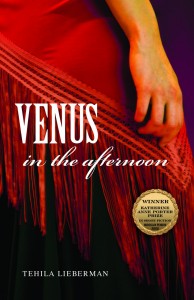 Porter Prize in Short Fiction (a competition that yours truly entered more than once). The 2012 judge, Miroslav Penkov, writes that Lieberman "inhabits her characters, young or old, men or women, honestly, but without judgment, until they rise off the page and stand before us breathing and alive. New York, the Atacama desert, Amsterdam or Cuzco in Peru, the settings in Venus in the Afternoon are just as varied as the lives which they contain. A wonderful collection, one that will stay in your mind long after you have bid it goodbye."
---
Links & Resources
Tempted to submit your manuscript for the Katherine Anne Porter Prize in Short Fiction? Check it out here.