Hello again, FWR friends. Welcome to the latest installment of our "First Looks" series, which highlights soon-to-be released books that have piqued my interest as a reader-who-writes. We publish "First Looks" here on the FWR blog around the 15th of each month, and as always, I'd love to hear your comments and your recommendations of forthcoming titles. Please drop me a line anytime: erika(at)fictionwritersreview(dot)com, and thanks in advance.
---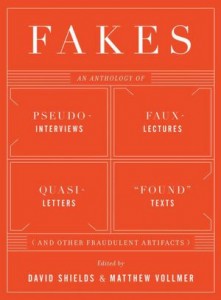 First, W.W. Norton is releasing what strikes me as a must-read anthology for fiction writers: Fakes: An Anthology of Pseudo-Interviews, Faux-Lectures, Quasi-Letters, "Found" Texts, and Other Fraudulent Artifacts. Edited by David Shields and Matthew Vollmer, Fakes is described by its publisher briefly as "contemporary short stories enacting giddy, witty revenge on the documents that define and dominate our lives," and, in more detail, as follows:
In our bureaucratized culture, we're inundated by documents: itineraries, instruction manuals, permit forms, primers, letters of complaint, end-of-year reports, accidentally forwarded email, traffic updates, ad infinitum. David Shields and Matthew Vollmer, both writers and professors, have gathered forty short fictions that they've found to be seriously hilarious and irresistibly teachable (in both writing and literature courses): counterfeit texts that capture the barely suppressed frustration and yearning that percolate just below the surface of most official documents. The innovative stories collected in Fakes—including ones by Ron Carlson (a personal ad), Amy Hempel (a complaint to the parking department), Rick Moody (Works Cited), and Lydia Davis (a letter to a funeral parlor)—trace the increasingly blurry line between fact and fiction and exemplify a crucial form for the twenty-first century.
And that part about "irresistibly teachable" isn't just PR. At least one writer-who-teaches, Tom Hopkins, has already structured a course around the book; he is offering it in the Columbia University MFA program this fall.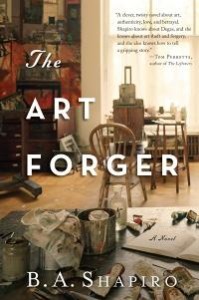 Now that we're on the theme of things that are counterfeit, let's move from the page to the canvas. B.A. Shapiro's The Art Forger (which I've had the good luck to read already thanks to Algonquin and NetGalley), transports us to a culture of counterfeit paintings. For those of us with Boston ties and/or memories of the theft of 13 masterpieces from the Isabella Stewart Gardner Museum back in 1990, the book is especially engaging. The Art Forger is being billed as a "literary thriller," and I'll admit that I was caught up in the suspense of it all. (Turns out that B.A. Shapiro, as "Barbara Shapiro," has published five suspense novels already.)
---
Links & Resources