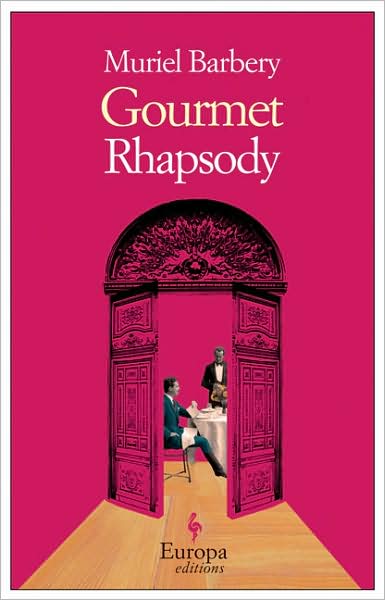 On Thursday I emerged from a fog of editing work and serious reading in need of a pick-me-up, so I headed to Borders, hoping to get my hands on that much-hyped smeary deliciousness known as "Me and Mrs. Palin." Alas — it's in the October, not September, issue of Vanity Fair, and since I'm no longer a New Yorker, I'll have to wait until Sept. 8 to buy a copy. To assuage my (embarrassing) disappointment, I reminded myself that I was in a bookstore, a struggling one at that. Never mind the towering to-read pile of books on my nightstand: I should buy a book. Browsing, I stumbled upon this newly translated novel by Muriel Barbery.
Gourmet Rhapsody (Europa Editions) is the prequel to Barbery's internationally acclaimed The Elegance of the Hedgehog, and according to Gourmet Rhapsody's back cover blurbs, the new novel promises more of the meditations on food, art, class, philosophy, isolation, and identity that defined Hedgehog–as well as a return to that novel's setting: rue de Grenelle in the 7th arrondissement. Gourmet offers up the final thoughts of (and about) Paris's finest food critic, the reviled and friendless "Pope of Gastronomy," Pierre Arthens. On his deathbed, Arthens struggles to remember the finest dish he's ever tasted–a name that now eludes him, a flavor he longs to taste one final time.
When I read Hedgehog last winter, I thought Barbery's prose (even in translation) lovely and strange in the best sense, and I found her musings brilliant–and I also worried that her characters and story were too much in the service of Big Ideas. Yet I find myself thinking about this book quite often, particularly when defending Woody Allen, Lorrie Moore, or any actor/writer who repeatedly inhabits or recreates versions of what is unmistakably himself or herself in each character played or written. I didn't hesitate to pick up Gourmet Rhapsody. I want to see what Barbery does with Arthens' voice and character. And I want to read some gorgeous descriptions, through his voice, of French and Japanese culinary "ecstasies".