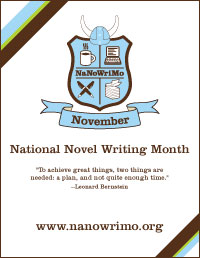 As Gwen announced last week, it's NaNoWriMo (National Novel Writing Month), the annual challenge to write a 175-page (50,000 word) novel during the month of November. How many of you are taking part? We have at least one FWR editor and one contributor on the scene, and so far they're keeping up with the wordcounts. You're 1/10 of the way through your novel by now, right?
Right?
Here's some extra motivation. NaNoWriMo's profile has risen from Crazy Thing 21 People Did in 1999 to Mass Writing Event in 2008. Last year, NaNoWriMo reported over 120,000 participants, 20,000 of whom finished their novels by the November 30 deadline. With that rise in popularity comes a rise in attention–and publication. In 2006, Gayle Brandeis sold her novel Self Storage, originally written as part of NaNoWriMo, and this past fall Jessica Burkhardt sold her12-book Canterwood Crest YA series based on, yep, a NaNoWriMo novel. And no matter what happens with your book, there's always the satisfaction of finally doing what you've always wanted: writing that novel.
This year, several companies are offering NaNoWriMo participants some technological tools to help along the way. Online self-publisher Fast Pencil will send you a coupon for a free (print) copy of your book if you use their (free) program to write it. Meanwhile, Scrivener–which describes itself as a "a word processor and project management tool created specifically for writers of long texts"–has a special NaNoWriMo trial version, as well as a discount on the full version of the program if you reach your word count. And Amazon's print-on-demand site CreateSpace is offering writers a free (papreback) proof copy of their completed NaNoWriMo novels.
Full disclosure: Fiction Writers Review does not endorse any of the above services or products and offers the preceding information solely for the possible benefit of our readers (and would-be NaNoWriMo-ers). But people–if you try any of the above, let us know about your experiences!