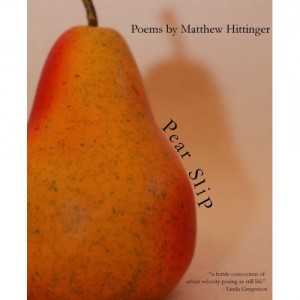 To start your week with some verse, here are some poetry-for-prosers recommendations from poet Matthew Hittinger (author of Pear Slip, winner of the Spire Press 2006 Chapbook Award):
Poemergency Room by Paul Siegell

If you live in NY or a city with a similar mass transit system you may find it hard to garner the concentration to read poetry on the subway or bus (and who can blame you with all the poems being written in the conversations and through the actions of your fellow mass transit riders?). Here is a book whose rhythms are so attuned to the city, that mesh so intrinsically to the city's dance and beat, that you will find you may only want to read it on the subway.

Clever experimentation with spacing (you'll find calligrammes or shape poems such as a track runner and a b-boy dancing), word play and punctuation might frustrate more conservative sensibilities at first, but if you're looking for an escape from prose, you'll find that breath of fresh air in the way these poems push language and the confines of the page in new directions. These poems are fun and take delight in capturing the performance of living going on all around us, the language not allowing you to idly stand by and watch as a passive reader, but pulling you in to dance and bob along with each line break and poem shape.

If you're looking for a book of poems that runs the spectrum of poetic modes, you'll find much to love in Sharon Dolin's Burn & Dodge, winner of the AWP's 2007 Donald Hall Prize. These poems display a vast grasp and versatility of form, moving deftly among both traditional and experimental poetic modes, yet remaining cohesive throughout. To highlight some of what you'll find: a masterful homophonic sonnet sequence (Clare-Hewn), the hybrid sonnet-ghazals ("Ghazal Without the Man" for one), and intricate syllabic patterns ("The Truth of Poetry," "At the Reception, 1963" with their nods to Marianne Moore). The language here is fresh and the word-music should hit your ear in new ways: it is playful in its chiming and sing-songing, the word play not afraid to call attention to itself and the thing poetry is made of, putting the words foremost which only serves to reinforce the images present.

If you are already well-versed in poetry, you'll take pleasure in how these poems are in direct conversation with the Tradition as they give winks and nods to the voices that shape us and the ground that has been broken by the poets that have come before, even if it's just something as casual as referencing a National Geographic in a dentist's waiting room (recalling Elizabeth Bishop's famous poem "In the Waiting Room"). But even if you are a newcomer to poetry, these poems will get you thinking: their imagery is fueled by an exploration of ideas (the seven deadly sins is one strain), and you'll find the emotional intensity comes from the speaker caught in the act of thinking, the thought process captured on the page. While that might sound too philosophic for some, there are plenty of poems with a "narrative" for those who crave a good, compressed story ("Jealousy," "Pandora and the Summer Au Pair"), but there are daring leaps too, such as the lovely word play and fixation on language as a thing in the "Current Events" sequence.