I go to a lot of readings. It's a rare week when I don't attend at least one or two. And while I'd say I enjoy them in the abstract, I have to admit that too often, even when I love the writer, I wind up kind of bored or restless: I think about my own writing, or I agonize over that leaning tower of laundry back home, an unfinished freelance project, the friend whose novel draft I *still* haven't finished reading, whether my water bottle is slowly emptying into my sad, overstuffed purse…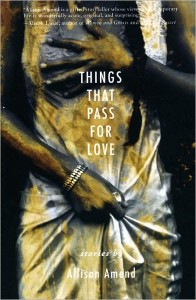 Not so with the One-Story reading I attended last night (Friday, January 9) at Pianos! Allison Amend read from her first book, the collection Things That Pass for Love (Other Voices/Dzanc), and I was rapt. In fact, I was kvelling–not just from the wonderful story, which had the audience laughing and making little involuntary "uhn"s of appreciation–but also from the way she read it. It's rare that a writer can (1) emanate such warmth and (2) read her work so well, and with such comfort and pleasure. I thought, it's like, she actually enjoyed writing this story! And I loved hearing it. Coming soon on FWR: either a review of her collection or an interview with the author.
For now, enjoy her story "Dominion Over Every Living Thing," and come to her 2020 Visions reading (with Thisbe Nissen) on Wednesday, January 21 at the Teachers and Writers Collaborative (Center for Imaginative Writing, 520 Eighth Avenue, 20th floor, between 36th and 37th Streets). All T&W events are free and open to the public.
And here is Amend's national tour schedule.