"For his first thirty-five years, Joseph Saleeby's mother makes his bed and each of his meals; each morning she makes him read a column of the English dictionary, selected at random, before he is allowed to set foot outside." Year thirty-five of Joseph's life is a landmark because his mother disappears on her way to market—their country, Liberia, has been at war for five years—and never returns. After this, of course, she stops making his bed and his meals.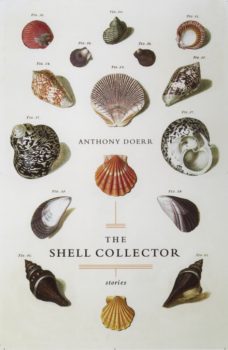 Anthony Doerr is given to what we might call the extended-play short story: instead of hours or days, years go by. "The Caretaker" is remarkable not only because of its temporal scope—if we count that first sentence, it covers thirty-six years—but also its geographical one. Although his mother brings him his lunch at the job he lightly embezzles from and tells him he is "making Liberia strong," Joseph flees the country after she disappears. He has turned to trafficking in stolen goods; at the behest of rebel soldiers he fears will kill him, he shoots an innocent man. He sails for the Oregon coast, a place as naturally beautiful as his country is made ugly by men, and becomes a refugee.
As if civil war, exile, loss and shame weren't enough, Doerr hurls even more objects into orbit and juggles them expertly. Joseph accepts a job as a caretaker at a wealthy home, but neglects his duties out of deep, unacknowledged depression. In his sudden bursts of feeling, he is sometimes a gutted machine ("His insides, torn out of him, swing beneath his arms like black infernal ropes, marionette strings cut free") and sometimes something organic, like soil ("His chest feels like it has cracks running through it"). Whatever he becomes in these moments, he is non-functional, barren, and unable to ask for the forgiveness he so badly needs to give himself.
Joseph's most dramatic act while he works for the wealthy family is to visit the shore where five whales have recently beached and ask to bury their hearts. He digs a hole in preparation, but a whale heart is huge. "I did not make the hole large enough for these," Joseph realizes.
For failure to do his job, the family fires him, sending him back into the landscape that mirrors his mind: unsympathetic, raw. He hides out in the woods behind his former employers' home and plants a garden, like he had seen his mother do.
If the dream-symbolism of whale hearts for Joseph's sadness, seedlings for hope, and the employers' deaf daughter (who befriends Joseph) as the marker of all he cannot say, seems obvious, Doerr's deeply physical sentences—with verbs like "winching" and "sheathes"—make us feel the corporeality and loneliness of Joseph's struggle.  Even his meals, apart from the house, become physical toil: "…eating…is a job, vaguely troubling, hardly satisfying." Nothing in this story, not even Joseph's homegrown therapy methods, is abstracted away from us. Doerr puts every automatic rifle, half-drunk martini, ripe melon, and finger-sign right in our hands.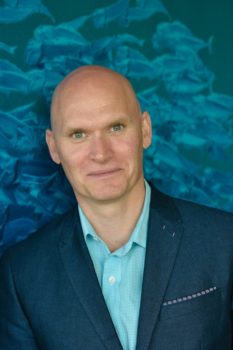 Which is why it surprised me, teaching this story last year, when a student raised his hand during a small group discussion and asked me if "The Caretaker" took place in an alternate reality. "What makes you think that?" I asked. "Because nothing in this story makes any sense," he said. "This guy is burying whale hearts and hanging out in the woods, and he doesn't clean any of the ice off the roof, and he gets fired almost on purpose—the only explanation I have is that it doesn't take place in our world." I asked the student to imagine himself in Joseph's place—what would he do if he lost everything? He didn't know, he said, but it wouldn't be this.
This is the place where I'm supposed to tell you that later I realized my student was right. And he was, but he didn't know why. Joseph's reality is an alternate one, one turned upside down by loss and displacement and depression. But Doerr isn't one to use the "you just wouldn't understand" defense: the gorgeousness of "The Caretaker" is that ravaged maps of both the human world and the human mind don't inspire pity or relief at our better lot, but bring us closer to a strange reality that isn't so alternate at all, that suddenly doesn't seem so far from us.