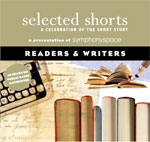 NY-based (or visiting) writers:
More short story love, this time with actors: Symphony Space presents "Selected Shorts: A Celebration of the Short Story," in which "spellbinding short stories by established and emerging writers take on a new life when they are performed by stars of the stage and screen."
Hosted by Isaiah Sheffer, performances often focus on a theme; for example, "Living Life to the Fullest" included Neil Patrick Harris reading "The Canoeists" by Rick Bass and Mia Dillon reading Pam Houston's "How To Talk to Hunter." And the series features plenty of stories by young/emerging writers, too, including Karen Russell, Aimee Bender, Kiran Desai, and Kevin Brockmeier.
New Yorkers can catch upcoming shows live at the Peter Sharp Jay Theatre (buy tickets here). Luckily for the rest of us, shows are also available on public radio, online, and by podcast (go here to subscribe).
And here is a schedule of upcoming readings; this page also features a link to find Selected Shorts on your local public radio station. (On WNYC, it airs Saturdays and Sundays at 4:00pm on AM 820.)
Symphony Space also offers a 3-CD set (or download) Readers and Writers, selected recordings from Selected Shorts of the past.