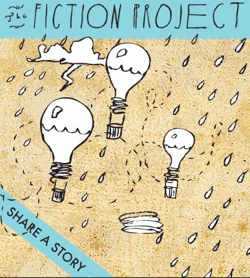 Like to doodle in the margins of your stories? Sketch in the park until inspiration for a story strikes? The folks behind Art House Co-Op – out of the Brooklyn Art Library – who came up with the traveling Sketchbook Project, that sends themed sketchbooks around the country on exhibit, have just announced The Fiction Project. Like The Sketchbook Project, anyone can participate, for the $25 entry fee they'll send you a book to fill:
The Fiction Project is an opportunity to tell stories in a different way by fusing text and visual art. Add your voice to this year's coast-to-coast tour and create new work grounded in the act of writing. After traveling across the country, the Fiction Project will enter into the Brooklyn Art Library's narrative collection, archiving your stories to share them with the public.

Anyone – from anywhere in the world – can be a part of the project. To participate and receive a journal that will travel with the 2011 tour, start by choosing a theme to the right.
The themes (there are dozens) range from "It will be fun, I swear" to "Things that changed other things" to "Lines and grids" – open to interpretation and enticing, as you can see. The deadline to sign-up for this year's Fiction Project is March 31, 2011. Your stories and drawings could go on an odyssey from Winter Park, Florida to Seattle, Washington – a nice new year's present to them, don't you think?