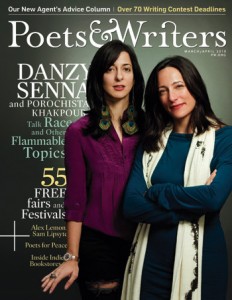 1. Subscribe to Poets & Writers. The magazine is continuing their special deeply discounted subscription rate for FWR readers: only $12 a year. Anyone who orders before March 15 will receive the current issue, featuring Powell's Books in Portland.
With this deal, you'll not only get the magazine at one-third the normal price: you'll also be showing your support for independent bookstores and Jeremiah Chamberlin's Inside Indie Bookstores series. In each P&W issue, he profiles an important independent bookstore around the country, featuring an interview with the owner. (In the Jan/Feb issue, that bokstore was Square Books, of Oxford, Mississippi.) Simply put: the more support we can gather for the series, the more publicity we can give to bookstores during this tough economic time. It's also a great way to show what a devoted readership we have at FWR. So please help us spread the word!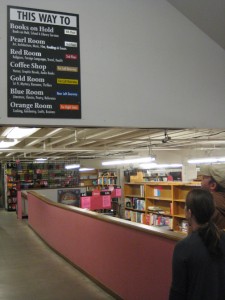 2. Read the online extended version of Jeremiah's latest Inside Indie bookstore installment, an interview with Powell's Books owner Michael Powell, and see photos from the store. Pass on the link, post it, or leave a comment on the site about your favorite bookstore or about the series itself. Every comment helps support the project.
Here's an excerpt from Jeremy's article; the print version appears in the March/April edition of P&W:
Few independent bookstores are more iconic than Powell's Books. Even readers who've never been to Portland, Oregon, know about the store from its ads in places like the New Yorker, or from its prominent online presence, or from its reputation as the largest new- and used-book store in the world. The "City of Books," as the four-story flagship store on West Burnside is known, occupies an entire city block, and carries more than one million books. The sixty-eight-thousand-square-foot space is divided into nine color-coded rooms, which together house more than 3,500 sections. From the moment you walk in, it feels as if you could find anything there. (And if you can't, try one of the seven branch stores in five other locations throughout Portland, specializing in everything from technical books to home and garden.)

I was early for my interview with owner Michael Powell, so I decided to get a coffee in the attached café. Like the bookstore itself, the guiding aesthetic is simplicity—no overstuffed chairs, no fireplace, no decorations on the salmon-colored walls other than some taped-up flyers for local bands and a Buddhist meditation group. Not that anyone seems to notice. While I was there, every single person I encountered was reading. At the table nearest me a high school girl in cat-eye glasses and a ski cap read Lucy Knisley's French Milk (Epigraph Publishing, 2000), with a stack of David Sedaris waiting at her elbow. A well-dressed elderly woman flipped through the Oregonian not too far away. And on the other side, near the windows, a young woman with black hair and piercings through both her cheeks was making a list of recipes from The Garden of Vegan (Arsenal Pulp Press, 2003). Filling the rest of the tables were hipsters in zip-up sweatshirts and Chuck Taylor All Stars, a young father in a shirt and tie with his two children, construction workers wearing Carhartt overalls, and women with trendy bags and knee-high leather boots. All were reading. Here was a microcosm of the store: A diversity of people and interests, sure, but what's most important in Powell's is neither image nor decor but the books themselves.
3. Become a fan of Poets and Writers on Facebook. You can also leave a comment on the Feb. 10th post about independent bookstores. P&W is looking for your favorite shops around the country.
What is your favorite independent bookstore, and why?