Here's where my November resolution to read War and Peace over the last two weeks of December begins to look like so much bluster and brim. I've never been a huge fan of New Year's Resolutions for this very reason: the likelihood of failure feels like the hulking beast perched atop the crumbling overhang of the dainty little ledge where I contemplate things like "finish two stories a month." BUT, have I got an easy resolution for you: in 2011, read more flash fiction.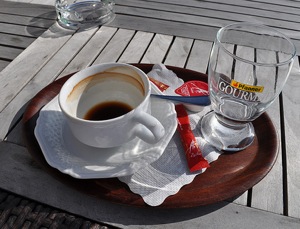 What's not to love? You can finish reading it before your coffee gets cold, you can make a snap judgment whether you like it or not, you could even write and finish a story during the same time you could lose into the black hole of something like … say … that Simpsons episode you've seen 7 times already. It's almost the new year, why not get a jump on it now? Smokelong Quarterly is an online lit magazine that features stories under 1,000 words. That's right, shorty short. Don't even try to use your merry-making ways as an excuse, these stories are so short and punchy reading one is like a miracle cure for December lethargy.* You're welcome.

*No actual curative powers claimed with this statement.