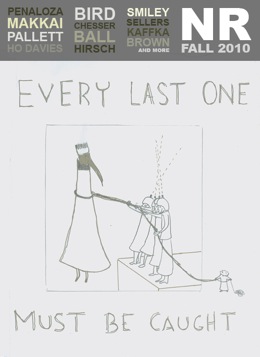 The third issue of The Nashville Review – an online celebration of storytelling out of Vanderbilt University – is live, and it's a doozy. You can read copious amounts of fiction, listen to musical/poetic mashups between the likes of composer Andrew Bird and poet Galway Kinnell (I always like a little music and poetry as a foil to fiction), straight-up poems, interviews, comics, experimental dance. I feel like here is where one of those Batman & Robin "Kabow!" graphics should just obliterate this blog post. The NR's mission is also the kind of benevolent, gather round the campfire and tell your tale of wonder/fright/romance/silliness, kind of credo I particularly like:
Nashville Review was founded with two guiding principles: that our venue would be inclusive to all forms of storytelling, and that it would be both free and available to everyone. Thus, NR seeks to feature those forms of writing not often recognized as literature—music, comics, film, creative nonfiction, oral storytelling, dance, drama, art—alongside the more traditional forms of fiction and poetry.
Check them out, you won't be sorry. One word of warning: if you're at work, you could get lost for hours in just the one issue. Proceed with caution.