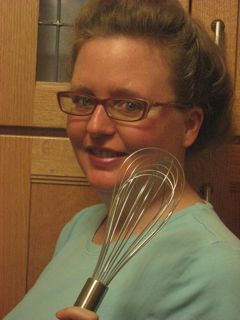 Novel Dishes, an occasional series on Fiction Writers Review, explores fiction where food is an important theme that supports the plot and drives it forward. Each piece includes at least one recipe based on food described in a novel; we're currently cooking our way through The Time Traveler's Wife. (Please comment if you have suggestions of books for future Novel Dishes columns.)
Henry: I straighten up, take off my jacket, and roll up my sleeves. "Give me an apron," I demand. "You, Gomez – open that wine. Clare, clean up all that spilled stuff, it's turning to cement. Charisse, would you set the table?"

Clare: We begin eating, with enthusiasm. The risotto is slippery and mild, the squash is sweet, the chicken is swimming in butter. It makes me want to cry, it's so good.
Setting the Table
Saturday, November 30, 1991 (Henry is 28, Clare is 20)
When Henry meets Clare's friends Charisse and Gomez for the first time, he saves the evening by taking over the cooking. Clare and Charisse, neither of whom cook, are attempting several recipes from a fancy cooking magazine: a chicken and shiitake mushroom risotto and a side dish of pureed butternut squash with pine nuts. When he arrives Henry notes that the kitchen "looks as though a Pillsbury dough factory exploded in it."
For a book that is so chock full of food, it's remarkable that Clare doesn't cook. She is very creative in other ways but calls her lack of cooking skills "a mental block." Cooking magnificent meals for Clare is a simple way, throughout their life together, for Henry to express his love–a small attempt to make up for the fact that he might disappear at any moment.
Audrey Niffenegger's choice of risotto in this scene works perfectly. It's a very social dish, requiring constant stirring. I always picture a group of friends standing around the pot gossiping while they take turns with the spoon.
Risotto with Chicken and Shiitake Mushrooms
(Adapted from Marcella Hazen and Food & Wine)


Serves 4
[Ingredients]
5 cups homemade chicken stock or low sodium commercial chicken stock.
5 tablespoons unsalted butter
2 tablespoons canola oil
1 small onion chopped fine
1 pound of skinless boneless chicken breasts, cut into one inch pieces
1/4 tsp salt
1/4 tsp freshly ground pepper
1/2 cup dry white wine
2 cups of Carnaroli or Arborio Rice
1 ounce of dried shiitake mushrooms
1/3 cup of freshly grated parmesan cheese
salt
pepper
[Method]
Using kitchen scissors, cut the woody stems off of the dried shiitake mushrooms and reserve them for another use (they are good in stocks and sauces). Put the caps of the dried mushrooms in a bowl, pour 2 cups of lukewarm water over the mushrooms. Put a small plate or pot lid on top of the mushrooms to weigh them down and keep them submerged. Soak the mushrooms for at least 30 minutes. Reserving the mushroom soaking water for later, remove the mushrooms and rinse them thoroughly in fresh cool water, pat dry with paper towels and chop them roughly, set aside. Line a fine mesh strainer with paper towels or a coffee filter, strain the mushroom soaking water and set it aside.
Pour the chicken stock into a small saucepan and set it over medium heat. Bring the broth to a bare simmer, just a few bubbles breaking the surface.
Put a large heavy bottomed saucepan over medium-high heat and add 2 tbs. of unsalted butter. Add the chicken pieces, 1/4 tsp. salt and 1/4 tsp. of freshly ground black pepper. Saute the chicken until it is barely done, about 5-6 minutes. Remove the chicken from the pan and set aside.
Add 1 tbs unsalted butter and 2 tbs. of canola oil to the pan and turn the heat to medium-high. Add the chopped onion to the pot. Cook the onion, stirring constantly until it is translucent, about 5 minutes. Add the rice, stir throughly, until the rice is completely coated with butter and oil.
Add the dry white wine to the pot and stir constantly until it is absorbed. Using a ladle add about 1/2 cup of the hot chicken broth to the pot and stir constantly, scraping the bottom of the pot frequently to prevent sticking, until all of the liquid is absorbed. Add another 1/2 cup of hot broth and continue stirring until it is absorbed. Continue adding the broth by the 1/2 cup until the rice has been cooking for 10 minutes.
Add the chopped, reconstituted mushrooms and 1/2 of their soaking water to the pot. Continue stirring constantly until the mushroom water is absorbed. Add the rest of the mushroom soaking water, continuing to stir. Once it is absorbed switch back to adding hot broth by the 1/2 cup, stirring constantly, until the rice has been cooking for 20 minutes.
At this point begin tasting the risotto, looking for the creamy/firm texture described above. Continue adding hot broth as before, but as the risotto gets closer to being done, add less broth each time so it won't be too soupy. Taste the rice for doneness after each addition of broth is absorbed.
The rice will cook at different speeds depending on the humidity but 25-30 minutes total cooking time is a ballpark estimate of when it should be done. You may or may not use all of the chicken broth before the risotto is done, don't worry if you have some left. If you seem to be running out of broth, add some water to the broth pot and turn up the heat to get it simmering.
When the risotto is a minute or two away from being the right texture, add the 1/3 cup of grated parmesan, 2 tbs. of butter and the cooked chicken pieces to the pot. Stir constantly for the next 2 minutes or so, melting the butter and cheese, throughly blending it into the rice, and reheating the chicken. Take the risotto off the heat, season with salt and pepper and serve immediately on a platter.
[Notes]
Constant stirring is the key to risotto, be sure to prepare all your ingredients in advance so you don't have to step away from the stove. If you must stop for some reason, have someone else take over. Whatever you do, don't stop stirring.
It is also important to use either Carnaroli or Arborio rice. Both of these varieties of rice have a soft coating of starch on the outside, which dissolves with with all that stirring into the creamy texture prized in a good risotto. At the same time, each grain of rice cooks up tender, yet firm in the center (like an al dente pasta) instead of becoming mushy. Some people like it firmer in the middle than others, so go with your taste.
In the book, Henry serves these dishes with an Australian Cabernet Sauvignon. On our test run we drank a 2005 Chapel Hill Cabernet Sauvignon from the McLaren Vale in Australia which worked very well, light enough for the chicken and earthy enough to complement the mushrooms and the squash. It's available in the US for about $15-20 per bottle.
Pureed Squash with Sage and Pine Nuts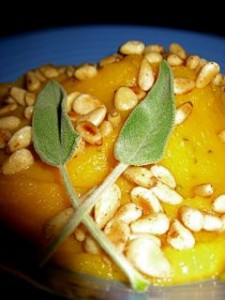 Serves 4
[Ingredients]
1 butternut squash
1 tbs. soft unsalted butter
2 tbs. melted unsalted butter
1/2 tsp. fresh sage, chopped
salt
pepper
4 Tbs. pine nuts
[Method]
Preheat oven to 350 F.
Cut the squash in half lengthwise and remove the seeds and pulp. Rub the cut faces and cavities with the soft butter, and season with salt and pepper. Place the squash on a baking sheet cut-side up and bake for 40 – 50 minutes, until the flesh is tender. Remove the squash from the oven and allow it to cool until you can handle it. Scoop the flesh out of the squash and put it in a food processor with the melted butter and sage. Pulse until the squash is pureed and the butter and sage are incorporated. Season with salt and pepper to taste. Turn the mixture into a small saucepan over very low heat to keep it warm while toasting the pine nuts.
Put the pine nuts in a dry skillet over high heat and stir constantly until they turn a golden brown and are fragrant. Be sure to keep an eye on them as they can burn in the blink of an eye.
Serve the pureed squash with the toasted pine nuts sprinkled on top.
Next on Novel Dishes
Check back next Friday for another literary menu from The Time Traveler's Wife: an array of cold (but passionate) dishes, from Vichyssoise to Mango Ice Cream. If you missed last week's offering, Helen's (Fictional) Pear Bellini, treat yourself to a cocktail.
Kathryn McGowan is a Brooklyn-based food journalist and fiction lover. Her writing can be found at The Thrifty Gourmet and her own blog, Comestibles. She has studied food writing with Alan Richman at the International Culinary Center in New York City, and is a member of the Culinary Historians of New York. For her full bio, visit FWR's Contributors page.