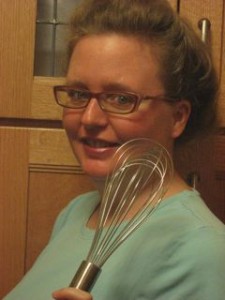 Novel Dishes, an occasional series on Fiction Writers Review, explores fiction where food is an important theme that supports the plot and drives it forward. Each piece includes at least one recipe based on food described in a novel; we're currently cooking our way through The Time Traveler's Wife . (Please comment if you have suggestions of books for future Novel Dishes columns.)
Clare: "But don't you think that it's better to be extremely happy for a short while, even if you lose it, than to be just okay for your whole life?"

Richard DeTamble: "I've often wondered about that. Do you believe that?

Clare: "Yes, I do."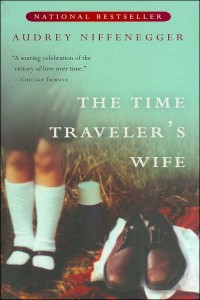 Setting the Table
Sunday, May 31, 1992 (Clare is 21, Henry is 28)
Meeting your beloved's family for the first time or introducing them to yours is always nerve-wracking. Both Clare and Henry have difficult parents: her mother seems to suffer from depression, and his father never recovered from his wife's sudden death in a car accident over 20 years ago and has descended into alcoholism. In this scene, a nervous Henry brings Clare to his father's house for dinner.
Richard DeTamble's house is full of death and the only thing keeping him going are the gentle ministrations of his housekeeper, Kimy, who provides light, warmth and sustenance. This evening he is trying very hard to behave, drinking only tea, making the excuse of having a cold. Clare describes him as "thin, and tired." The only time he comes alive is when he talks about his late wife, who was an opera singer: "[S]he could express her soul with that voice, whenever I listened to her I felt my life meant more than mere biology."
In the same way that Henry describes his love of domestic pursuits at the beginning of the novel, discussions of cooking and gardening rescue this rather awkward dinner. Kimy keeps everything going by inviting them outside to see her peonies and offering to give some plants to Clare's mother who also gardens. The meal she provides is quite sophisticated and Clare realizes that since Henry's mother was killed in a car accident when he was 6 years old, it must have been Kimy who taught him to cook.
Richard's unresolved anger over his wife's death leaks out when he describes his son as, "[not] calibrated to bring peace to anyone's life. In fact, he is in many ways the opposite of his mother: unreliable, volatile, and not even especially concerned with anyone but himself." Then he asks, "Tell me, Clare: why on earth would a lovely girl like you want to marry Henry?"
Clare diffuses the moment with a humorous comment about Henry's prowess in bed, which is greeted with an enthusiastic whoop of laughter from Kimy in the kitchen. Mr. DeTamble even cracks a smile, but somehow we know that this is but a brief respite from his regimen of self-torture.
After they've said their goodbyes, Clare and Henry play like wild children on the swings of a nearby playground, trying to counteract the darkness hanging over Richard's house.
Sangria
(Adapted from Gourmet)
Makes about 1 quart
[Ingredients]
1 bottle dry red wine
1/4 cup of brandy or rum
1 cup freshly squeezed oranges (the juice of about 3-4 oranges)
1/2 cup freshly squeezed lemon juice (the juice of about 3 lemons)
1/8 cup (1 fluid ounce) simple syrup (see note above)
2 nectarines
2 peaches
1/2 an orange thinly sliced
1/2 a lemon thinly sliced
Club Soda or Seltzer Water
Ice
[Method]
Pour the wine, brandy, fruit juices, and simple syrup into a container that holds at least one quart. Stir with with a long handled spoon. Peel the nectarines and peaches and cut them into 8ths or 16ths, add them to the pitcher along with the lemon and orange slices. Stir again with a long handled spoon.
Cover and chill for at least 4 hours or overnight, the flavors get better with time.
To serve, fill a large wine glass half full of ice, pour in half a glass of sangria and top off with Club Soda or Seltzer Water and stir. Garnish the glass with a slice of citrus fruit if you wish.
[Notes]
I think of Sangria as a light refreshing summer beverage, however in The Time Traveler's Wife, Clare mentions that Kimy's Sangria is really strong. Sangria is the kind of drink that can be very deceptive, it tastes all sweetness and light, but packs a wallop. This version goes relatively light on the brandy and I recommend serving it cut with soda water, but you don't have to. Try different ways of serving it and see what you like.
Use inexpensive wine for this since you're going to be putting lots of juice and fruit in it. Any drinkable, medium-bodied red for about $10 per bottle should do fine. You don't want to use really cheap brandy or rum because it will make the sangria harsh, but it is certainly not necessary to use Martell Cordon Bleu (XO). I used a middle-of-the-road cognac called Cognac Lautrec (VSOP) which ran me around $30 for a bottle. I'll use the rest for cooking or after-dinner nightcaps.
Also, feel free to experiment with different fruits. I used peaches and nectarines because they are in season right now, but in Northern Spain, for example, it is traditional to make Sangria with apples, pears and grapes.
Simple syrup is really easy to make and is the best way to sweeten cold drinks. I recommend making a bunch and keeping it in a jar in the fridge for that spontaneous lemonade or cocktail. Here's how to make it: Put 2 cups of sugar and 1 cup of water in a saucepan. Cook over medium heat, stirring until the sugar is completely dissolved. Take it off the heat, allow it to cool, and store in an airtight container in the refrigerator. That's it.
Duck Breasts with Raspberry and Pink Peppercorn Sauce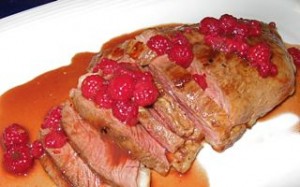 Serves 4
[Ingredients]
2 boneless Magret duck breasts with skin or 4 smaller Pekin/Long Island duck breasts
salt
freshly ground black pepper
1/4 cup finely chopped shallots
1 clove garlic, chopped
1 tbs sugar
2 tbs balsamic vinegar
1/2 tsp. pink peppercorns, coarsely crushed
1/2 cup demi-glace or rich beef stock (see note above)
1/2 pint fresh raspberries (or defrosted frozen ones if they aren't in season)
1/2 tbs unsalted butter
[Method]
Thoroughly pat duck dry with paper towels. Using a sharp knife score the duck skin in a crosshatch pattern, be sure to cut through the skin and the fat beneath it, but not into the meat itself, this helps the duck fat to render out while cooking. Lightly season both sides of the duck breasts with salt and freshly ground black pepper.
Place the duck breasts, skin side down, in a room temperature, dry, cast iron skillet or similar heavy bottomed skillet. Cook over medium-low heat until the skin is dark brown and crispy and most of the fat has rendered, about 20 minutes for large Magret breasts, less for smaller Pekin or Long Island ducks. While the duck is cooking, regularly use a basting bulb to carefully remove the rendered fat from the pan and reserve it. When the skin is crisp and the fat is rendered out, turn the duck skin side up and and turn the heat up to medium-high and cook for about 4-5 minutes. You are aiming for an internal temperature of about 125-130 F. for medium-rare duck.
When finished cooking, transfer breasts to a cutting board or plate and put a tent of aluminum foil over them as they rest while you make the sauce. The duck breasts should rest for about 10-15 min.
Add 1 tablespoon of reserved duck fat back into the hot skillet, then add the shallots and garlic, sauteing over medium heat until golden, about two minutes. Add the sugar and stir until dissolved. Next add the vinegar and take the opportunity to scrape up any brown bits stuck to the pan. Add the demi-glace, bring to a simmer and then add half of the raspberries, stirring to combine.
Strain the sauce through a fine mesh strainer into a saucepan mashing the raspberries to obtain their juices. Discard any solids left in the strainer (these will include the raspberry seeds which you don't want in your sauce). Add the pink peppercorns and stir to combine. Cook over low heat for a minute or two allowing the peppercorns to give their flavor to the sauce.
Remove the sauce from the heat, add the remaining raspberries and stir in the butter.
Slice your duck breasts thinly, on the diagonal and serve with some sauce poured over and more on the side.
[Notes]
There are several types of boneless duck breasts available. I like to use the ones from Magret ducks which are much larger than the other commonly available type which come from a breed called Pekin or Long Island duck. Either kind works for this recipe, but the smaller ones cook faster so you'll have to reduce the cooking time. You'll know they're getting close to done when the fat stops coming out as quickly. No matter which type of duck breast you use, don't cook them cold from the fridge. Allow them to come to room temperature before cooking.
I highly recommend using a meat thermometer to determine if the duck is done. Medium rare is about 125-130 F (and then 10-15 minutes resting time which brings the temperature higher).
Note: Demi-glace is a super-reduced veal stock that is a wonderful kitchen staple for making sauces. You can keep in the freezer so you always have it on hand. D'Artagnan (http://www.dartagnan.com) sells it via mail order and it can also be found in gourmet food stores. If you don't have any demi-glace you can substitute a rich beef stock, but the sauce will be a little thinner.
Be sure to strain and save any duck fat you have left over from this recipe. It is wonderful for frying potatoes in, or once you've saved up more you can make your own duck confit.
Almond Torte
(Adapted from Marcella Hazen)


Serves 6-8
Made mostly of egg whites, this is a light yet flavorful dessert. The lemon peel provides just enough zip.
[Ingredients]
10 oz. whole almonds
1-1/3 cups sugar
8 egg whites
1/2 tsp salt
1 lemon
6 tbs flour
soft butter
[Method]
Preheat oven to 350 F.
Butter an 8 or 9 inch springform pan and set aside.
Put the almonds and sugar in a food processor or blender and process until the almonds are fine.
Using a vegetable peeler, peel the lemon being careful to only peel away the yellow part, not the white pith which is bitter. If there is pith on some of the pieces you can scrape it off with a paring knife. Chop the lemon peel finely.
Using a stand mixer, a hand mixer or a whisk if you're feeling really energetic, beat the egg whites and salt until they form stiff peaks.
Fold the almond and sugar mixture and the chopped lemon peel gently into the beaten egg whites, a little at a time, trying to maintain the volume of the whites as much as possible.
Fold in the flour in the same gentle manner, sprinkling in a little at a time.
Carefully pour the batter into the buttered pan. Shake the pan a bit to level the batter.
Bake for 1 hour in the center of your oven.
Test the center of the cake with a toothpick, if it comes out clean and dry, the cake is done.
Place the finished cake on a cooling rack and remove the outside of the springform pan. Allow the cake to cool for 15 minutes, then gently slide a spatula or cake server under the cake to loosen it from the bottom of the pan. Allow cake to cool completely before serving.
If you have any leftover store it in an airtight container at room temperature.
Next on Novel Dishes
Check back next week for another literary menu from The Time Traveler's Wife, and if you missed last week's offering, Menu for a Proposal – from Vichyssoise to Mango Ice Cream, treat yourself to a passion-infused meal of cold dishes here.
Kathryn McGowan is a Brooklyn-based food journalist and fiction lover. Her writing can be found at The Thrifty Gourmet and her own blog, Comestibles. She has studied food writing with Alan Richman at the International Culinary Center in New York City, and is a member of the Culinary Historians of New York. For her full bio, visit FWR's Contributors page.