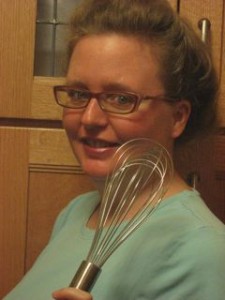 Novel Dishes, an occasional series on Fiction Writers Review, explores fiction where food is an important theme that supports the plot and drives it forward. Each piece includes at least one recipe based on food described in a novel; we're currently cooking our way through The Time Traveler's Wife . (Please comment if you have suggestions of books for future Novel Dishes columns.)
Henry: Lourdes brings small plates of exquisitely arranged antipasti: transparent prosciutto with pale yellow melon, mussels that are mild and smoky, slender strips of carrot and beet that taste of fennel and olive oil. We eat Nell's beautiful rare tuna, braised with a sauce of tomatoes, apples and basil. We eat small salads full of radicchio and orange peppers and we eat little brown olives that remind me of a meal I ate with my mother in a hotel in Athens when I was very young. We drink Sauvignon Blanc, toasting each other repeatedly. ("To olives!" "To baby-sitters!" "To Nell!"). Nell emerges from the kitchen carrying a small flat white cake that blazes with candles. Clare, Nell, and Lourdes sing "Happy Birthday" to me. I made a wish and blow out all the candles in one breath. "That means you'll get your wish," says Nell, but mine is not a wish that can be granted.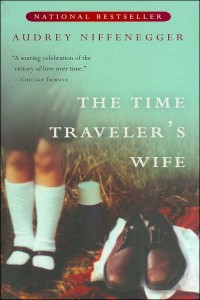 Setting the Table
Friday June 16, 2006 (Henry is 43, Clare is 35)
As the novel often does, we now jump forward in time. It is Henry's 43rd birthday and Clare has arranged a special evening for them. Her friend Lourdes has turned her apartment into a restaurant with one table. Lourdes is the waitress and Nell, Clare's family's cook, is in the kitchen preparing a feast.
Because this meal begins with three antipasti or appetizers I've made the portion sizes quite small. Feel free to scale up if you'd like to serve these dishes alone or as a single appetizer. In particular, a larger portion of the mussels could easily make a meal if served with a salad and some frites.
Melon and Prosciutto
Serves 2 as an appetizer
[Ingredients]
1 ripe cantaloupe, cleaned and sliced
1/4 lb. of thinly sliced prosciutto
[Method]
You can serve this any way you like, but it's nice to wrap the prosciutto around slices of melon so the flavors mingle properly. Since this is just to whet the appetite for the upcoming main course 3-4 slices of melon per person with its accompanying prosciutto should be plenty.
[Notes]
This is a classic Italian antipasto. The cool, sweet melon is a perfect foil for the luscious, fatty prosciutto and it couldn't be easier to make.
There are several varieties of prosciutto available in the United States and while Prosciutto di Parma has made quite a name for itself over the past 10 years or so, I'm a big fan of Prosciutto di San Daniele which is a little darker and sweeter tasting, but both are good.
Mild and Smoky Mussels

(Adapted from Stephanie Beack)
Serves 2 as an appetizer
[Ingredients]
1/2 lb. fresh mussels, cleaned and soaked (see notes)
1 piece smoked bacon cut into 1/4″ pieces
butter
1 leek thinly sliced (white and light green parts only)
1 shallot finely chopped
1 tbs dijon mustard
1/2 cup of a smoky beer (see notes for suggestions)
1/4 cup cream
[Method]
Use a large heavy bottomed pot to give the mussels lots of room. Saute the bacon until cooked through but not too crisp and remove it to a paper towel lined plate to drain.
Remove all except about 1 tablespoon of bacon fat from the pot. Saute the leeks and shallots in the bacon fat until translucent (if you don't have enough fat, add some butter to prevent sticking). Add the mustard, stirring to incorporate and add the drained bacon back into the pot.
Now add the beer and bring to a gentle simmer. Using a large spoon gently add the mussels to the pot and put the lid on tightly. The mussels will cook in about 3 minutes. If you can lift the pot, do so, shaking it (with the lid on) several times during the cooking process, this helps the mussels move around so they all get the same amount of heat. If you can't lift your pot then uncover it and quickly stir a couple of times during the cooking, replacing the lid as quickly possible.
After 3 minutes of cooking begin to check the mussels. Using a skimmer or a slotted spoon, scoop out the ones that are open (which will be most of them at this point) and put them in a hot serving bowls to keep them warm. If any mussels are not open, cover the pot for another minute or two and cook them further until they open. If you get to 6 or 7 minutes and you still have mussels that haven't opened, discard them.
When all the mussels are cooked, stir the cream into the cooking liquid, ladle it over the mussels and serve. A side of crusty French baguette is nice for dipping in the broth.
[Notes]
Don't be intimidated by cooking with shellfish at home. Mussels are a great place to start and they have the extra bonus of being fairly inexpensive. Here are some general tips about buying and preparing mussels:
The mussels must be fresh. They will keep for 1 day in the refrigerator, but really you should cook them the same day you buy them. If you need to store them, fill a baking dish with ice, put the mussels on the ice, cover the dish with a clean wet kitchen towel, and place the dish in the refrigerator. Check the dish towel occasionally to be sure it is still wet. Do not seal mussels in plastic, they are alive and need to breathe.
Depending on where you buy your mussels you may have to trim the tufts of hair or "beards" that you'll find at the side of the shell. This is quite simply done with a sharp knife.
Inspect your mussels carefully before cooking. They should all be firmly closed or they should close up when you tap the shell. If a mussel stays open, discard it.
Before cooking, soak your mussels in a bowl of water for about an hour. As they "breathe" they expel any sand that may be inside them. When finished soaking, remove the mussels from the bowl carefully so as not to disturb the sand which will have fallen to the bottom of the bowl. Finally, rinse the mussels one more time in fresh water, scrubbing their outsides with a brush to remove any other sand and they're ready for the pot.
The smoky flavor in these mussels comes from the smoked bacon and the smoky beer that we'll cook them with. I asked my friend Mary over at My Life on Craft for recommendations and it turns out that the German city of Bamberg is known for its smoked beers which are made using smoked malt. She suggests beers from the Schlenkerla and Spezial breweries. They both make several varieties of smoked beer, I would recommend a lager or a Weissbier (wheat beer) so as not to overwhelm the delicate flavor of the mussels. If you can't find these, speak with your favorite beer shop owner and ask for recommendations.
Carrot and Beet Salad with Fennel and Olive Oil Dressing
(Adapted from adapted from Smitten Kitchen)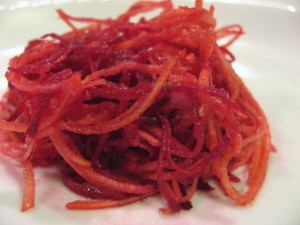 Serves 2 as an appetizer
[Ingredients]
2 beets
2 carrots
1 teaspoon fennel seeds
1/8 cup olive oil
1 1/2 tbs fresh squeezed lemon juice
1 tbs shallot, finely chopped
1/2 tsp salt
1/4 tsp sugar
[Method]
For the fennel vinaigrette, toast the fennel seeds in a dry saute pan, over medium heat, stirring constantly until they are fragrant. Keep a close eye on these as they can burn easily.
Using a spice grinder or mortar and pestle grind your toasted fennel seeds finely, but not to a powder. Mix the ground fennel with the olive oil and let it stand for about 15 minutes to infuse the flavors.
Meanwhile in a small bowl whisk together the lemon juice, shallot, salt and sugar until they are combined. When the fennel oil is ready stir it up and add it to the shallot mixture in a slow stream while whisking vigorously to emulsify the dressing.
In the novel, Henry describes this as "slender strips of carrot and beet that taste of fennel and olive oil." The easiest way to make "slender strips" is by using a food processor with a shredding disk. Another option is a mandoline with a julienne blade. If you have neither of these at hand you can grate them using a box grater. Whichever method you choose, remove the outer skin of the vegetables with a vegetable peeler first. When it looks like you have enough "slender strips" for 2 small salads then toss them with a light coating of the fennel vinaigrette and serve.
Rare tuna braised with a sauce of Tomatoes, Apples and Basil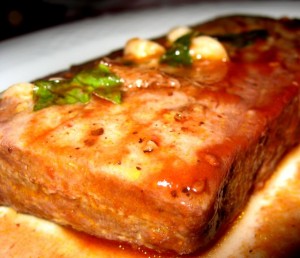 (Adapted from James Beard)
Serves 2
[Ingredients]
2 6 oz. tuna fillets
2 cloves garlic, thinly sliced
olive oil
fresh basil, 6 whole leaves and 1/4 cup chopped
sea salt
freshly ground black pepper
2 onions, thinly sliced
2 lbs fresh tomatoes or 2 15 oz. cans of Italian plum tomatoes, chopped with their juice
2 medium apples, peeled, cored and cut in eighths (see note for types of apples)
1 bay leaf
1 cup light bodied red wine
[Method]
With a sharp knife make 3 shallow, diagonal gashes in one side of each of the tuna fillets. Stuff each gash with 1 thin slice of garlic wrapped in a fresh basil leaf. Rub the fillets with olive oil and sprinkle with sea salt and freshly ground pepper. Cover and refrigerate for 2 hours.
Heat 2 tbs. of olive oil in a pot that will be deep enough to hold all of the ingredients. Sear the tuna for about 30 seconds on each side, don't cook it too long because we will cook it more later. Remove the tuna to a plate.
Add more oil if necessary and saute onions until translucent. Add the chopped tomatoes and their juice, the apples, bay leaf, chopped basil and red wine. Bring it to a boil and then turn it down to a very low simmer and cook partially covered for 20 minutes to combine the flavors.
Place the pieces of tuna, gashed side up, in the braising liquid, cover and cook at a low simmer for 5 minutes for rare tuna. If you want it medium-rare cook it a little longer, but be careful as the cooking will continue after it's removed from the heat and it's very easy to overcook it.
Remove the tuna fillets to a hot plate and cover with a tent of aluminum foil to keep warm.
Strain the braising liquid into a saucepan. Reserve the vegetable and apple mixture (removing the bay leaf) and keep it warm. Bring the sauce to a boil uncovered and reduce it by half. Taste the sauce and season to taste with salt and pepper.
To serve, put a mound of the vegetables and apples on the plate, top with a tuna fillet and drizzle with sauce.
[Note]
Use a firm variety of apple that will hold its shape when cooked such as Granny Smith, Jonathan, Gala or Rome Beauty.
Radicchio and Orange Pepper Salad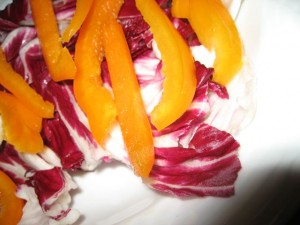 Serves 2 as a palate cleanser
[Ingredients]
2 small heads of radicchio
2 yellow or orange bell peppers
2 Tbsp balsamic vinegar
1/8 tsp salt
6 tbsp olive oil
freshly ground black pepper
nicoise olives
[Method]
For the vinaigrette, whisk together the vinegar and salt until the salt is dissolved, then whisk in the oil beginning with droplets and progressing to a thin stream to emulsify the dressing. Season to taste with a big pinch of freshly ground black pepper.
Wash the radicchio and tear it into bite sized pieces. Remove the seeds and membranes from the peppers, chop them into bite sized pieces and combine with the radicchio. Toss with a minimal amount of vinaigrette and serve with a small bowl of Nicoise olives on the side.
[Notes]
Nell (Clare's family cook) has decided to serve an Italian style meal for Henry's birthday, so the salad comes after the main course and before the dessert. The slightly astringent vinaigrette cleanses the palate in preparation for the sweet dessert to come.
Henry mentions that they also are served "little brown olives." Nicoise olives fit this description nicely and they are tasty and readily available. I tried putting them in the salad and didn't think it went very well so I would recommend serving them on the side.
Henry's Birthday Cake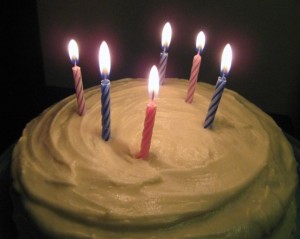 (Adapted from Fannie Farmer)
Serves 6-8
[Ingredients]
1 3/4 cups all purpose flour
2 tsp baking powder
1/4 tsp salt
10 tbs butter, softened
1 cup sugar
3 egg whites (at room temperature)
1 1/2 tsp vanilla extract
1/2 cup cold water
1 recipe of **Simple Frosting (see below)
[Method]
Preheat the oven to 325 F.
Grease the bottoms of two 8-inch round cake pans, line the bottoms with waxed paper and then grease the paper.
Combine the flour, baking powder and salt and set aside. In a separate bowl use a stand or hand mixer on medium speed to cream the butter and sugar together until you can no longer see bits of butter in the sugar. Add the egg whites, one at a time, beating for one minute after each. At this point the batter should be light and fluffy. In a small bowl, stir the vanilla extract and water together. Add a little of this to the butter mixture, beat and then add some of the flour mixture and beat. Continue in this manner, alternating between adding the flour mixture, and the vanilla water and beating after each addition until everything is added and the batter is smooth.
Divide the the batter evenly between your two prepared cake pans. Bake for 20-25 minutes in the center of the oven until a toothpick inserted into the center comes out clean and the top of the cake springs back when you touch it. Allow cakes to cool in their pans for 5 minutes and then run a butter knife around the edge to loosen and turn them onto a cooling rack (top side up) to cool completely (about 1 hour). Fill and frost with the Simple Frosting (see recipe below).
[Notes]
Although purveyors of cake mixes would have you believe making a cake "from scratch" is difficult, it's not. Okay, maybe it requires a little more mixing and a couple of more bowls, but come on, is that so hard? Give it a try; I promise you'll never go back to boxes.
**Recipe for Simple Frosting
(Adapted from Fannie Farmer)
Makes about 1 3/4 cups
[Ingredients]
4 tbsp butter, melted
1/4 cup heavy cream
2 tsp vanilla extract
3 cups confectioners' sugar
[Method]
Combine all of the ingredients except the sugar in a bowl. Using a hand mixer at medium speed, slowly beat in the sugar until the frosting becomes thick and spreadable. If it is too thick you can add a few drops of cream or if it is too thin add more confectioners' sugar.
[Notes]
Here are some tips to help the frosting process go smoothly:
When it is time to frost the cake, make 4 strips of waxed paper or aluminum foil about 2 inches by 10 inches each and form them into a square on the plate where you will frost your cake. These strips will catch the extra frosting leaving the edges of your plate nice and clean for serving.
Place the first layer upside down on the plate. The flat bottom is easier to frost evenly than the more rounded top. You want the long edges of the paper or foil strips to be sticking out from under the cake and covering the edges of your plate. Using a butter knife or an offset spatula spread the frosting on the top of the bottom layer, almost to the edges. Gently place the top layer of cake on top of the filling, right side up.
Next frost the sides of the cake. Then pile the remaining frosting on the top and swirl it to the edges with the back of a spoon. You can also use the spoon to make pretty swirls on the sides of the cake.
When the cake is completely frosted, carefully remove the strips of paper or foil and serve.
Next on Novel Dishes
Check back next week for another literary menu from The Time Traveler's Wife, and if you missed last week's offering–Recipes for Respite: Kimy's Sangria, Duck Breasts with Raspberry and Pink Peppercorn Sauce, and Almond Torte–you can still catch it here.
Kathryn McGowan is a Brooklyn-based food journalist and fiction lover. Her writing can be found at The Thrifty Gourmet and her own blog, Comestibles. She has studied food writing with Alan Richman at the International Culinary Center in New York City, and is a member of the Culinary Historians of New York. For her full bio, visit FWR's Contributors page.