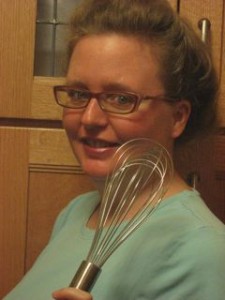 Novel Dishes, an occasional series on Fiction Writers Review, explores fiction where food is an important theme that supports the plot and drives it forward. Each piece includes at least one recipe based on food described in a novel; we're currently cooking our way through The Time Traveler's Wife . (Please comment if you have suggestions of books for future Novel Dishes columns.)
Henry: But I've been wanting to tell you: I feel so different. I just . . . feel so connected to you. And I think that it holds me here, in the present. Being physically connected the way that we are, it's kind of rewiring my brain.
Henry: "You know that I love you. Will you marry me?"
Clare: "Yes . . . Henry." I have an overwhelming sense of dejá vu. "But you know, really . . . I already have."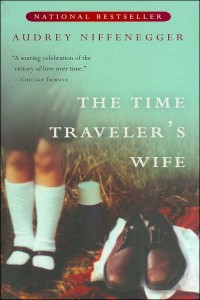 Setting the Table
Sunday, May 24, 1992 (Clare is 21, Henry is 28).
The next important meal in the book is both Clare's 21st Birthday and the day Henry proposes marriage to her. It's a very intimate scene, as if they need to talk about all of the important and sometimes dark matters weighing on their relationship before he proposes. There is frank discussion of sex (how much is too much, how much is enough). They also talk about Henry's running habit, he says he runs "because quite frequently my life depends on running faster than whoever's chasing me." Clare reveals her knowledge of his time travel at Christmas, back to the scene of the car accident where his mother was killed. They also laugh together about how difficult it was for both of them to hold back when Clare was too young to have sex. Ultimately, it is his love for her, both emotional and physical, that anchors him in the present. That, like food, is a basic human need.
Vichyssoise
(Adapted from Julia Child)


Serves 2 as an appetizer
[Ingredients]
1 cup peeled, sliced potatoes (Yukon Gold potatoes are nice for this recipe)
1 cup sliced leek (the white and light green parts only)
2 cups homemade chicken stock or low-sodium canned chicken stock
Salt
1/3 cup heavy cream
Freshly ground pepper (use white pepper, if you have it, for aesthetics)
1 Tbsp minced fresh chives
[Method]
Put the chicken stock in a medium saucepan with the potatoes and leeks and a big pinch of salt. Bring to a simmer and cook partially covered until the vegetables are very tender (about 20 minutes). Puree the soup in a blender or blend it in the pot using a hand blender. Then pour the soup through a fine mesh strainer, stirring with a spoon to push as much of the vegetable mixture through as possible. Discard any vegetable fibers left in the strainer. Add the heavy cream to the soup and season to taste with salt and white pepper. Chill the soup in the refrigerator for at least 4 hours before serving. Don't be alarmed if the soup separates in the refrigerator, stir it up and it will stay together.
Serve sprinkled with the minced fresh chives as a garnish.
[Notes]
This meal is perfect for a slightly fancy luncheon on a hot summer day. All the dishes are cold (and so are easily prepared in advance) but they are also rich and flavorful. The Vichyssoise doesn't look like much (and it's really easy to make), but it is a very sensual soup, thick and velvety, with the chopped chives providing just the right zing in contrast. Putting the soup through the strainer is a bit fussy, but it is essential to making the dish work because it creates the smooth texture. Also, please note that foods served cold need more seasoning than foods served hot, so over-salting the soup ever so slightly, is desirable.
Poached Salmon, Served Cold with Citrus Mayonnaise
(Adapted from Bon Appetit and Julia Child)
Serves 2
[Ingredients]
Salmon
2 cups of homemade white wine fish stock (see recipe below) or bottled clam juice
1/2 cup dry white wine
3 lemon slices
3 sprigs of fresh dill
4 whole peppercorns
2 6-ounce salmon fillets

Citrus Mayonnaise
1/2 cup mayonnaise
1 tablespoon freshly squeezed lemon juice
1 teaspoon lemon zest
1 tablespoon fresh chives, chopped
1 tablespoon fresh parsley, chopped
Freshly ground pepper (white pepper is nice here if you have it)
Garnish
Enough lettuce leaves to line a serving platter
2 lemon slices
4 lemon wedges
[Method]
For the Salmon
Place all of the ingredients except the salmon in a deep skillet, place over medium-high heat and bring to a gentle simmer (if it boils too hard the fish may break apart). Simmer for about 10 minutes to combine the flavors. Add the salmon, skin side down and simmer, covered, until the fish is just cooked all the way through (about 9 minutes per inch of thickness of the fillets). Remove the fillets carefully from the skillet so as not to break them (using a couple of spatulas can help). Reserve the poaching liquid. Allow the salmon to cool and then cover and chill them in the refrigerator for 3 hours or overnight.
For the Citrus Mayonnaise
Bring the salmon poaching liquid to a brisk boil and cook it uncovered until it has reduced to about 1/4 cup. Place the mayonnaise, lemon juice, lemon zest, chives and parsley in a medium bowl and combine. Whisk in 1 tablespoon of the reduced poaching liquid. Season to taste with freshly ground pepper. Cover and chill in the refrigerator.
[To Serve]
Line a serving platter with the lettuce leaves. Place the salmon fillets on the platter. Cut each lemon slice once from center to edge and twist to make a butterfly, place one on each fillet. Serve with lemon wedges and the Citrus Mayonnaise on the side.
Homemade White Wine Fish Stock
makes about 2 cups
[Ingredients]
About 1 pound of fresh fish heads, and/or bones and trimmings
1 onion, thinly sliced
6 parsley stems without their leaves (leaves make the stock dark)
1 teaspoon freshly squeezed lemon juice
1/2 teaspoon salt
1 cup dry white wine
[Method]
Put all the ingredients in a large saucepan or stock pot. Then add enough cold water to cover the ingredients. Put the pot over medium-high heat and bring the contents to a simmer. Use a skimmer or slotted spoon to skim off the scum that will rise to the surface. Simmer the stock for 30 minutes uncovered. Strain the stock through a fine mesh strainer. Taste the stock and add more salt to taste if necessary. This stock can be made in advance and stored in the refrigerator or freezer.
[Notes]
You can usually get fresh fish heads and other bones and trimmings from your fish monger for very little money, or sometimes even free. If you get heads, make sure the gills have been removed or do so yourself at home. If heads and trimmings are not available, then ask which is the cheapest, boniest whole fish they have and buy one that weighs more or less a pound. Have them gut it for you and remove the gills. When you get home just chop it into 2-3 pieces to use in your stock.
If you have the time to make your own white wine fish stock, it is completely worth it as it provides a lovely complexity. In fact, make extra, stash it in the freezer and use it to make fish soup some other time.
Grilled Asparagus with Rosemary
Serves 2
[Ingredients]
1 lb. fresh asparagus with the woody stems broken off
1 lemon
3 cloves of garlic, finely chopped
1/2 tsp. salt
1/2 tsp fresh rosemary chopped
3/4 cup olive oil
1/4 tsp freshly ground black pepper
[Method]
Cut the lemon in half, juice half of it and place the juice in a bowl. Slice the remaining half into quarters and set aside. Stir in the garlic, salt, rosemary, olive oil and pepper.
Place the asparagus in one layer in a shallow baking dish. Pour the marinade over the garlic covering completely and add the remaining lemon quarters. Cover and chill in the refrigerator for 4 hours or overnight.
If you have access to a grill, cook the asparagus on it for about 10 minutes, using tongs to turn them occasionally, to char them nicely all around.
If you don't have a grill available cook them under the broiler of your oven for 5-7 minutes turning them part way through so they cook evenly.
These may be served hot or cold. If serving cold allow them to cool, then cover and chill in the refrigerator for 3 hours or so.
Mango Ice Cream


Makes about 2 quarts
[Ingredients]
1-1/2 lbs. fresh ripe mangoes
1/2 cup mango juice
2 cups whole milk
1 cup sugar
8 large egg yolks
1 cup heavy cream
1 teaspoon pure vanilla extract
[Method]
Cut the mango into 1 inch cubes. Puree the mango cubes until smooth in a food processor or blender. Stir the mango juice into the puree and cover and chill it in the refrigerator.
For the next step you will need a large bowl and a baking pan that will hold the bowl. Fill the baking pan about 1/2 full with ice and then place the bowl in it. Pour cold water into the baking pan to make an ice bath for the bowl. Pour your cream into the bowl.
Put the milk and sugar into a saucepan over medium heat. Warm the milk and stir to dissolve the sugar. Do not let the milk boil. Turn the heat down to low and keep the milk and sugar mixture warm.
In a large bowl whisk the egg yolks thoroughly (for about two minutes). Continue whisking the yolks while using a ladle to slowly add about 1 cup of the warm milk mixture. This brings the eggs up to the temperature of the milk so they won't scramble when you add them to the pot. When the milk is blended into the eggs, pour the contents of the bowl into the saucepan. Increase the heat to medium and stir constantly. Cook until the mixture coats the back of a spoon or reads 180 F. on a thermometer.
Strain the custard through a fine mesh strainer directly into the bowl of cream in the ice bath which you prepared earlier. Add the chilled mango puree mixture, and vanilla extract stirring to combine throughly. Cover and refrigerate for at least 6 hours.
Follow the directions for your ice cream maker to finish making the ice cream. When it is first finished this ice cream is fairly soft. If a harder consistency is desired, put it in an air tight container in the freezer for about 2 hours. Serve with raspberry coulis (see recipe below).
[Notes]
There is a bit of a trick to dicing mangoes. Watch this sweet amateur video for a demonstration: (http://www.youtube.com/watch?v=-6dPnL0uJho) . Don't forget to freeze the bowl of your ice cream maker for 24 hours before making this recipe.
If you're looking for something to do with all the leftover egg whites you'll have from this recipe, try these perfect (and fairly easy to make) coconut chocolate macaroons.
Raspberry Coulis
[Ingredients]
12 oz. fresh raspberries (or defrosted frozen ones if they're not in season)
3 tbs sugar
[Method]
Place all ingredients in a food processor and puree. Then put the result through a food mill to eliminate the seeds. If you don't have a food mill you can strain it through a fine mesh strainer stirring vigorously to push all of the material through (except the seeds of course). Drizzle on top of the ice cream to serve.
Next on Novel Dishes
Check back next Friday for another literary menu from The Time Traveler's Wife: Recipes for Respite: Kimy's Sangria, Duck Breasts, and Almond Torte. If you missed last week's offering, Clare and Charisse's Rescued Rissoto, treat yourself to a writerly (yet social) dish here.
Kathryn McGowan is a Brooklyn-based food journalist and fiction lover. Her writing can be found at The Thrifty Gourmet and her own blog, Comestibles. She has studied food writing with Alan Richman at the International Culinary Center in New York City, and is a member of the Culinary Historians of New York. For her full bio, visit FWR's Contributors page.