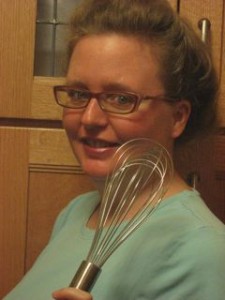 Novel Dishes, an occasional series on Fiction Writers Review, explores fiction where food is an important theme that supports the plot and drives it forward. Each piece includes at least one recipe based on food described in a novel. We hope you've enjoyed this first series of Novel Dishes, inspired by The Time Traveler's Wife . If you have any thoughts on what novel we should cook our way through next, please let us know via comments or email.
Clare: Henry holds up an onion and looks at me gravely and says, "This . . is an onion."

I nod. "Yes. I've read about them."

Henry has decided to teach me to cook.

We make marinara sauce, pesto, lasagna. Another day it's chocolate chip cookies, brownies, crème brûlée. We poach eggs and salmon, make pizza from scratch. I have to admit that it's kind of fun. But I'm terrified the first night I cook dinner by myself. I'm standing in the kitchen surrounded by pots and pans, the asparagus is overcooked and I burn myself taking the monkfish out of the oven.

I sneak glances at Henry, eating. And as I'm eating, I realize that everything tastes fine. "It's good, Mama!" Alba says, and Henry nods. "It's terrific, Clare," Henry says, and we stare at each other and I think, Don't leave me.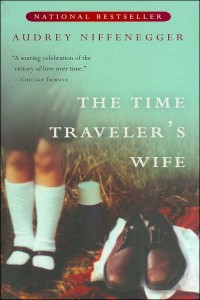 Setting the Table
Friday, November 3, 2006 (Clare is 35, Henry is 43)
In this, our final exploration of food in Audrey Niffenegger's The Time Traveler's Wife, we find Henry giving Clare a final gift of love: teaching her to cook. Although she is a very successful artist who makes her own paper in big cauldrons in her studio, she never learned to cook for herself. Suspecting that all of his time traveling is finally taking its toll, Henry wants make sure his wife and daughter will be all right without him.
Roasted Monkfish with Potatoes, Onions and Fennel
(Adapted from Mark Bittman)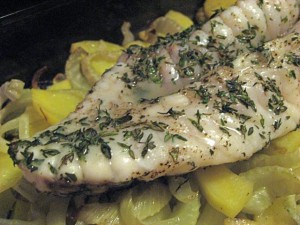 Serves 4
[Ingredients]
1 1/2 pounds of monkfish fillets (see note about varieties)
2 large potatoes peeled and thinly sliced
2 large onions peeled and thinly sliced
1 blub fennel, thinly sliced or the white and light green parts of 2 leeks, thinly sliced
olive oil
sea salt
freshly ground black pepper
1/4 cup chopped fresh thyme
lemon wedges
[Method]
Preheat oven to 400 F.
Rub the fish with olive oil, and then sprinkle with sea salt, freshly ground black pepper and the chopped thyme. Allow the fish to marinate until it is time to roast it.
Place the slices of potato, onion and fennel in a baking dish and toss thoroughly with 1/3 cup of olive oil, 1 tsp of sea salt and a few grinds of fresh black pepper. Place the dish in the center of your oven and roast for 20 minutes. Open the oven and stir the vegetables to help them cook evenly, then roast for another 20 minutes or until they just start to brown.
Gently lay the prepared monkfish on top of the vegetables and roast for about 20 minutes or until the thickest part of the fish is tender and flaky.
Serve with lemon wedges on the side.
[Notes]
Thanks to Ed Schneider's post about it at the New York Times, I recently discovered that American and European monkfish are slightly different. The American variety (Lophius americanus) has wetter flesh than the European (Lophius piscatorius). Consequently, our European readers might need a shorter cooking time for this recipe, keep an eye on your fish and make sure it doesn't dry out.
Fennel is one of those love it or hate it vegetables so if you're not a fan of the liquorice-y, peppery flavor, feel free to substitute leeks instead.
Quick Asparagus
Serves 4
[Ingredients]
2 pounds fresh asparagus
sea salt
butter
[Method]
After breaking off the woody ends, cut the asparagus into 1 inch pieces. Bring a large saucepan of salted water to a boil. Place the asparagus pieces into the boiling water and boil for about 5 minutes for slightly toothsome asparagus. If you like it cooked more, leave it in for another 30 seconds but be careful as it can turn to mush very quickly.
Serve drenched in butter and sprinkled with sea salt.
Kathryn McGowan is a Brooklyn-based food journalist and fiction lover. Her writing can be found at The Thrifty Gourmet and her own blog, Comestibles. She has studied food writing with Alan Richman at the International Culinary Center in New York City, and is a member of the Culinary Historians of New York. For her full bio, visit FWR's Contributors page.