Before I discuss Nicole Rivas' beautiful book, A Bright and Pleading Dagger (Rose Metal Press), I have to admit something: I have never had more trouble writing a review. I sat down to write this the week of the Kavanaugh hearings. The week Christine Blasey Ford gave her measured, rending testimony. The week Kavanaugh responded with an adult tantrum. And I am finishing it on Saturday, October 6th, the day of Kavanaugh's confirmation.
So it's hard, but also incredibly necessary, to write an analysis of Rivas' chapbook, which is all about violations, devastating in their ordinariness. To read this book is to be cut by it.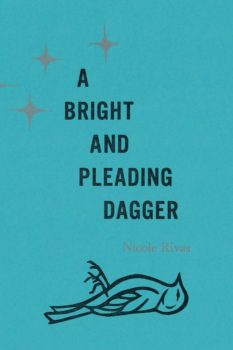 Winner of the Rose Metal Press 12th annual Short Short Chapbook Contest, Rivas' debut flash collection opens with two lovers preparing to eat an ortolan. Thumb-sized French songbirds, ortolans are one of the world's forbidden delicacies. Because they are endangered, serving them is illegal, but the prohibition against consuming ortolan goes deeper. After they are captured, ortolans are kept in the dark and fattened on grains and grapes until they reach three times their original weight. Then they are forced into bottles of brandy and drowned. Diners eat ortolan whole, bones and organs snapping in their mouths (in Medium Raw, Anthony Bourdain described tasting his own blood as he ate). Diners wear cloth napkins over their heads to savor the aroma and, some say, to hide the shame of deriving pleasure from this small, brutal death.
Reading A Bright and Pleading Dagger is a little like eating ortolan. Rivas' stories are compact, tender, and razor-sharp. They combine the fairytale dread of Carmen Maria Machado with the dream-scape disorientation of Kelly Link. In "The Butcher," a woman takes child-like delight in dissecting pigs and sheep; "Gretel's Escape," a prequel to the fairytale, poses questions about fate, agency, and resignation; in "The Staring Contest," a woman goes speed dating and falls in love with Detrix, the oldest man on earth; and in the title story, two teenage girls pass through a harrowing initiation in a cotton field.
The intensity of the stories' premises is offset by Rivas' prose, which is clean and straightforward, almost conversational. Her writing seems almost too simple, until you hit a short line that turns everything on its head. In "Bulldog," a little girl gives herself a magic marker tattoo in the hopes that it'll make her stronger and tougher. When her mother discovers the tattoo, she seems angry at first. Then, she begins laughing. The narrator writes, "She laughed so hard…she had to brace herself against the door frame. I had never seen my mother's face contort in such a way. It was entirely natural."
It was entirely natural. I re-read that line at least three times. I loved the way Rivas made me re-see uncontrollable laughter, and I loved how much the line implied—that the narrator isn't used to seeing her mother so unguarded, that parents almost always hide parts of themselves from their children. One of Rivas' gifts is her ability to pick out an ordinary moment and re-shape it so that it becomes revelatory. She zooms in on a butcher's blood rimmed cuticles, a flock of birds whose wings make "faint licking sounds," with a quiet accuracy that is beautiful to read.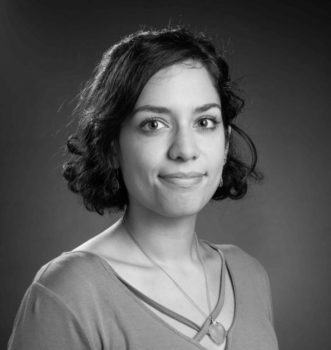 Dagger's striking prose is especially suited to the stories narrated by teenagers. These stories are so recognizable and honest, perfectly capturing the feeling of being a young girl in a world that both scorns and fetishes you. Every detail works. In "Crush," the narrator, who has fallen hard for a string of girls, instructs herself to be "the opposite of hurt…bored." It's such a perfectly teenage calculation, both accurate and utterly wrong. In "Death of an Ortolan," a nineteen-year-old begins dating her fifty-two-year-old gynecologist, Penny. The story captures the reckless momentum of running head first into a situation you know will cause you pain but doing it anyway, because at nineteen, you still believe that pain can be romantic.
But the story that struck me most was the titular one: "A Bright and Pleading Dagger." In it, two girls who work at a Dixie store are drawn into a dangerous outing with two older men. Though the girls ultimately escape, their friendship fractures. Rivas perfectly captures the boredom and slow heartbreak of losing a best friend.
Near the end of "Dagger," the narrator reflects that her manager at Dixie has no clue what "girls' lives do or do not depend on." Rivas' collection is beautiful and necessary, heartbreaking and healing, precisely because it does understand. In this world, we need more books like A Bright and Pleading Dagger.