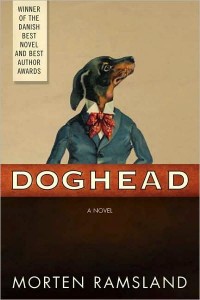 Hundehoved. See, it sounds a little more haunted, a little more rhythmic, a little more intense in Danish. But the English "Doghead" sounds good, too: blunt and pragmatic, both mysterious and common as dirt.
Come to think of it, mystery and the commonplace both pervade Doghead (Thomas Dunne Books, 2009, trans. Tiina Nunnally), a Scandinavian saga obsessed with the convoluted telling of what goes awry in the gnarled branches of the Erikkson family tree. It only complicates matters that each family member comes complete with a set of nicknames; the narrator, Asger Eriksson, has a few of his own: The Latchkey Kid, The Bastard Boy, The Danish Shrimp, The Bandit, The Liar.
Asger may indeed be a liar, but once he starts spinning his family's near-absurdist, often snort-inducing tale, he's hard to resist. Grandmother Bjørk thinks Asger has "a lively imagination," but Grandfather Askild says he's "as full of shit as an old privy."
Unfortunately for Askild, that's a bit literal. In a key opening scene, Asger manages to make his grandfather drink a glass of piss and beer. Asger ends up having to sip it too, since now he's "old enough" to try his grandfather's beer. Eventually Askild crashes to the floor, heaping onto the Danish Shrimp's shoulders a load of urine-tainted guilt that dogs him throughout the rest of the book.
Asger's wandering, tangential narrative unspools at a rapid clip—but don't expect anything tidy. The near-epic saga is crammed with red herrings, gross-out episodes, sketches of grotesque profundity, and punchy, raunchy anecdotes dealing in estrangement and despair. Doghead is one long, dirty yarn, told with a wink and a sob, and mostly concerned with how people ever manage to grow up (and what they do to each other to prove it.)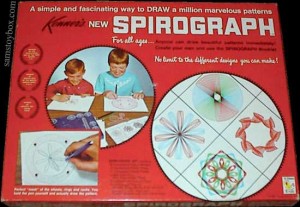 The included genealogical chart might help sort things out, but the process of reading Doghead is like using a Spirograph (one of those childhood toys, the one into which you inserted a pen and began spinning a plastic disk through a multiplicity of crazed patterns), whose repetitions only start to make sense when you're almost done.
Initially, this may be puzzling. You are expecting a New York Times crossword-type experience, when everything will eventually fit together and every blank will be filled. But what you get is your grandmother's jewelry-box of hopelessly tangled old necklaces. What plot there is comes in snippets and scenes constantly cut by other scenes. After you stop expecting the "real" plot to start though, this technique actually becomes pleasurable. You can finally sit back and savor what you're overhearing.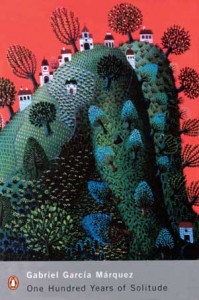 Which, it turns out, sounds like an argument between One Hundred Years of Solitude, Gould's Book of Fish, and V. It's the telling and re-telling of three generations'-worth of family stories—and when it's the dirt-poor Eriksson clan doing the telling, and you know the stories are pretty much the only thing the clan holds dear, or even has to hold, you can bet these are rich, ridiculous tales bent on making listeners remember exactly what degrees of unhappiness distinguish one family from any other family.
Through it all–his father's cubist attempts at naval architecture; his second cousin's tattooed, salami-sized penis; his own wayward spying on his sister's amorous adventures–Asger remains wryly quixotic. Nobody in his family really has any luck. But they do have the anger and bravado and joy to tell stories, sprinkled with a liberal dusting of self-deprecation. No matter the fact that everything is always "going downhill," leaving the family members stranded in their hospital beds and hovels with their empty bottles, their stolen coin collections, piles of muck, stray roof tiles, stiff paintbrushes, northern lights and fairy dreams.
Each person remains obsessed with their own thwarted dreams, and their own fixations on how life would be perfect, if something were only just a little different. The clan members' stories are meant to express strong things, but they struggle to find the right words and gestures. Instead, they're left with mere symbols.
Asger has to grapple with the worst symbol of all:
So it wasn't until I was three and started developing a harmless fear of the dark that my sister and I became close. 'There are no moles living under the beds in my house,' my father was fond of saying at bedtime whenever his son voiced dubious theories about the diffuse nature of the dark. 'Dogs won't come out of the walls when I turn off the light,' my mother assured me. But not everyone agreed that we lived in a perfectly harmless house. 'Down in the basement, in the space under the stairs, you know,' said Stinna, 'that's where Doghead lives, you know, and it's VERY DANGEROUS.'

'Doghead?' I stammered. 'What does it do?'

'I have no idea,' replied my sister. 'But it's very dangerous, you know. It's so dangerous that I don't even know what it does.'
It seems the Ericksson clan doesn't know what its own members do to each other, until maybe it's too late to really take back. One thing's for sure–Asger has a lot to account for by the end of the tale, and the severed skull of Doghead seems to pant after him the whole way.
Dogs themselves flit in and out of Asger's stories. There are the bloodhounds that chase Asgild across a frozen German plain in the opening scene. There's Asger's humiliation at playing a German shepherd savaging the legs of his sister and cousin. There's Asger's obese, mentally impaired aunt waddling after him under the stairs, to crush him in her bosom while Asger mutters "Little Bitch."
To call Doghead "dogged" may not be pushing the pun too far. Ramsland stakes out a lot of ground to cover, and the fact that he manages to keep up a rollicking, half-drunken literary swagger throughout the whole 383 pages is itself impressive. He composes a cubist foxhunt of a narrative and wraps it in a Hieronymous Bosch pelt–there's a large-scale sweep and strut constantly propped up by details small and grotesque as the toe protruding from a sock, that is "blue and filthy and looks like a little trapped fish."
By the end, everyone feels like a little fish trapped in the flow of Norwegian and Danish politics, run aground in the nets of infidelity, alcoholism, severed body parts, bullying, rape, and dark Scandinavian loneliness. Those flopping fish create a beautiful silver mess though, and a pungent, unforgettable smell. Doghead, in sum, is a glorious, rag-and-bone-littered beach you may just want to comb through sometime soon. You may just find yourself appreciating Ramsland's fatalistic celebration of the diffuse dark that surrounds us all, and you, like I, may find yourself wondering if perhaps we all have our own smoldering-eyed Dogheads constantly watching the guilty things we do under the stairs.
Further Resources
– Read an excerpt from Doghead on Bookbrowse.
– Watch this "Reality Isn't for Children" teaser for the book:

-Here is a review of Doghead on Three Percent, a superb site that specializes in international literature.