I recently watched a decades-old interview with David Bowie. When asked to speculate on the fate of music in a future full of synthesizers, samplers, and simulacrum, he related the following theory: In the future, to escape an onslaught of reproduced sounds and images, human beings will come home at night, sit in the dark, and touch something made out of wood.
In an age of books built from blogs, tweets, and text messages, Mitch Wieland's new novel-in-stories feels as though it were made of wood. It is regional, elemental, and bears the marks of its maker: the careful grooves of his chisel, the smooth surfaces from the author's finest sandpaper, even rough-hewn gouges by what might have been teeth or fingernails.
God's Dogs (Southern Methodist UP, 2009) follows Ferrell Swan, a man in his early sixties who considers himself a failure in all the roles that matter: son, husband, father. He's retired early and headed off to the barren landscape of southern Idaho, a self-imposed exile to prevent him from screwing anything else up. For a while, he fills his days with hikes, naps, and half-hearted forays into shepherding. But it isn't long before his old life—in the form of ex-wife Rilla and stepson Levon—catches up with him.
This book focuses remarkably, relentlessly on the main character. With a small supporting cast and a plot as sparse and unadorned as the sagebrush desert, God's Dogs becomes a kind of meditation. Ultimately, Ferrell's dilemma boils down to a question of suffering alone versus suffering with others—which is more bearable, and which is nobler.
Other reviewers have rightly discussed the book as an exploration of solitude. Certainly, its hermit-in-wilderness motif follows in the tradition of Walden, Desert Solitaire and others. However, I'd argue that Wieland's unsung genius is his rendering of family. While much of this novel could be set a century ago, the depiction of marriage and fatherhood feels up-to-the-second contemporary. Ferrell and Rilla are only able to love each other in divorce, and then only up to a point. Levon—legally an adult, biologically not Ferrell's son, technically a parent himself—needs more fathering now than ever.
The questions this novel raises about family seem to me the most interesting and the most urgent–questions that may well define our age: Which aspects of marriage should endure and which are outdated? Where do we draw the line between parent and fellow screw-up? How do obligations to kin dovetail with obligations to one's own happiness?
Over the passionately carved and carefully polished course of God's Dogs, the love of family is revealed to be not so much unconditional as it is inescapable.
Further Resources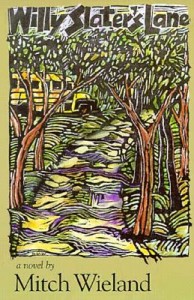 – Over at the Emerging Writers Network, read an excerpt from (and Dan Wickett's discussion of) "The Mistress of the Horse God," a story/section from God's Dogs.
– Mitch Wieland is the founding editor of The Idaho Review. Consider submitting your own work to this journal, or subscribing to it. And find out more about the Boise State University MFA in creative writing program, where Wieland teaches.
– Here is a recent profile of Wieland and review of God's Dogs from the Boise Weekly.
– Learn more about the author's first novel, the critically acclaimed Willy Slater's Lane (Southern Methodist UP, 1996).
– If you're interested in one of Wieland's books, try your local independent bookstore.