One of my favorite novels is Kazuo Ishiguro's Never Let Me Go (Knopf, 2005). I return to it the way I did those favorite novels I had as a kid, which is to say frequently. As a child, the novels I went back to were ones that illustrated some complicated part of my life that I didn't understand. The same is true as an adult, and why I have those novels that I pick up again, knowing already the page I want, or sometimes even the line. I have long been drawn to work that illustrates the complexities of intimacy, and the complicated ways we forge connections, even as we often betray those connections.
This explains why I will return to Garth Greenwell's debut novel, What Belongs to You, released this week from Farrar, Straus and Giroux, many times in the years to come.
Greenwell's novel is told from the point of view of a young American man who teaches at a university in Sofia, Bulgaria, and whose relationship with Mitko, a local hustler, is the backbone of the story. Greenwell shows the differences in these two characters clearly and early on: the narrator is someone who understands the complexities of human relationships, even a relationship in its first few moments. While kissing Mitko for the first time, the narrator recognizes that Mitko is performing in some fashion, but then notes that "there's something theatrical in all of our embraces, I think, as we weigh our responses against those we perceive or project…We always desire too much or not enough and compensate accordingly."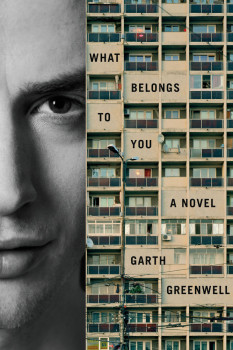 Greenwell's acuity at capturing the narrator's attempts to reconcile and calibrate his own desires with those of Mitko's—or, more accurately, with what he perceives of Mitko—is noteworthy. These are complex emotional states that capture the performance of intimacy and affection. The beauty of Greenwell's writing is that these moments of reflection do not slow the pace of the novel, nor do they feel didactic or heavy-handed. Rather, it's as though a good friend is explaining some aspect of love and affection that you've felt but never considered how to articulate.
From the first encounter with Mitko, betrayal is also part of what entices the narrator. After their first encounter ends too early for the narrator, and too early for what he has paid, he becomes angry, noting, "I felt my anger lifting as I realized that my pleasure wasn't lessened by his absence, that what was surely a betrayal…had only refined our encounter, allowing him to become more vividly present to me." In Greenwell's novel, betrayal is not merely a force that dissolves intimacy; in some ways, betrayal allows different intimacies. This push-pull of betrayal binds us to each other even as it threatens to do us damage. And that threat builds through the novel as Mitko and the narrator become more intimate.
One example of this growing intimacy comes during an evening at the narrator's apartment. Mitko Skypes with another man in another city, one offering him an expensive gift if only he visits. Mitko does this without apparent duplicity and in full view of the narrator, and it's hard to know how much this betrayal is orchestrated to illicit jealousy, and how much is a necessary part of Mitko's existence (he has no computer of his own, and needs access to set up more dates). Later that night, Mitko sleeps with the narrator, holding him in his arms. After, the narrator recalls, "I slept as I have seldom slept…held like [Mitko's] beloved or child." Then he adds, "or held, I suppose it must be said, like his captive or prey." These two options—being the beloved or being prey—co-exist for the narrator, and work as foreshadowing for the threats to come.
This is a testament to the strength of Greenwell's writing in that Mitko feels both threatening and threatened.
As Mitko's betrayals build through the novel, some of them carry the threat of physical violence or harm, and once he even hits the narrator. But the worst moments come when Mitko uses language to hurt the narrator, as when Mitko relays the times he's defended the narrator to his friends, but makes a point to say that they ask, "Why are you hanging out with that faggot?" The narrator notes Mitko uses the word "pederast," because in Bulgaria it carries the connotation of abuse. Even though Mitko and the narrator sometimes struggle to communicate because they don't share a native tongue, Mitko is still capable of using language as a weapon. He's a character who, even though he has few other prospects for any work aside from hustling, wields both intimacy and betrayal as a way to draw the narrator closer, and thus to have some power in a situation where a different person might have little.  This is a testament to the strength of Greenwell's writing in that Mitko feels both threatening and threatened.
Greenwell's narrator is also self-aware, and sometimes painfully so. In one scene, his younger half-sister, known as G., visits him in Bulgaria. She describes discovering online evidence of their father's infidelities, how he'd created multiple online dating accounts, and concocted different personalities for different women, often chatting with numerous women at once. The narrator's father had turned his back on him when, as a teenager, he'd revealed to the man that he was gay. A less self-aware character would use his half-sister's description as a moment to distance himself psychologically from the man who had hurt him, perhaps even revel in his father's failures. But this character instead sees this as a moment of understanding—even a kind of intimacy through sympathy—describing his own online chats with potential lovers, saying, "I can carry on these multiple conversations, each its own window…and in each I have the sense of being entirely false and entirely true, like a self in a story." Then he adds, "I know they are all I have, these partial selves, true and false at once, that any ideal of wholeness I long for is a sham." This idea of being multiple selves—the self who teaches at an impressive university, the self who solicits sex in the bathroom of the National Palace of Culture, the self who feels a connection with a father who failed him—yet not a whole, single self is one that permeates the novel. It is also what makes the ending particularly devastating.
At its heart, What Belongs to You is a novel that asks us to consider what intimacy is, and how we forge connections with others. Greenwell's debut is haunting and lyrical, and is the kind of novel you'll return to long after you've finished it.