Robert Hellenga's readers have, since the publication of his first novel, The Sixteen Pleasures (1989), come to expect certain – well, pleasures. The Confessions of Frances Godwin does not disappoint. This seventh novel contains many of his hallmarks: a humorous, rueful point of view character with an active life of the mind and senses who is engaged in internal conflict and the loving tangles of relationships with family, friends, neighbors, and colleagues; the double setting of Knox College in the small Midwestern town of Galesburg, Illinois, and sabbatical interludes in Italy; road trips through the Midwest; mouthwatering food and drink; music and poetry; discursive explorations of jobs and hobbies, interests and passions; and explanations of how things work (here, for example, we are enlightened on tuning a piano which is "much like regulating the universe").
The greatest charm of this book is Frances herself, her tart, funny voice. Hellenga's characters are flawed, striving, likeable. Frances Godwin may be my favorite of the whole tribe. She is a Polish-Catholic farm-girl by birth and a lapsed Catholic. Frances has broken a couple major commandments in her sixty-odd years—like a Graham Greene character, she wrestles with  guilt, and hides a significant skeleton in her closet. She invites the reader to listen in on her debate with God over right and wrong, guilt and innocence. She's acerbic and funny, reminding me of George Bernard Shaw's piquant, challenging seeker in Adventures of A Black Girl in her Search for God (1933). Frances defends and critiques her imperfections, her transgressions and shortcomings— as a wife, a mother, a person, a soul. She recounts the story of her adult life, bracketed by her two mortal sins forty years apart.
The first transgression was adultery with her married Knox College Shakespeare professor, Paul Godwin. She graduated and left Galesburg to study "Spoken Latin" at a convent in Rome. There, she confessed (in Latin!) to "forniccazione" and promised never to repeat her sin. Absolved by the priest, Frances walked out of the church "in a state of grace" and discovered Paul Godwin waiting for her in the piazza. By the time the couple returned to Galesburg, Frances was pregnant. Their daughter Stella was born before Paul's divorce, and afterward the couple married and shared a life together until his death. Frances has not been to confession in all the years since Rome, but, she says, "I've never forgotten what it was like to be free from sin. If only for a couple of weeks. It's a great feeling, but it doesn't convulse the entire being."
No one but God knows about her second transgression, in 1996, not long after Paul died. It is now ten years later and Frances has just retired and packed up her Galesburg High School Latin classroom. She keeps busy with piano lessons, preparing for her first recital, correcting the galleys for her upcoming publication—a translation of Catullus. She occasionally goes on long distance truck driving runs with her daughter Stella, a drop-out poet from the Iowa Writers Workshop who drives a big rig full of vegetables. Frances has had a suitor, but her guilty secret is one major obstacle to moving on. She still prepares Paul's favorite meal from Marcella Hazan's cookbook every year on the anniversary of his death to lure him back for a confession and apologies, but he never appears.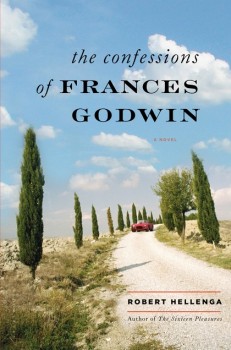 So Frances has some serious loose ends to tie up. She undertakes this memoir as her "spiritual autobiography" (not accidentally entitling it The Confessions of Frances Godwin with a nod to St. Augustine). She unburdens herself to her accountant. She travels to Rome and confesses to her drinking buddy—a former Galesburg priest now posted to the Vatican. And she appeals directly to us: "if absolution is going to come from anywhere it will have to come from you, Dear Reader." Her tone is self-deprecating and comic, but deeply serious. Frances listens as she writes, just in case the police "come knocking at my door again with their warrants and handcuffs and Miranda rights." She wonders if the Vatican "will come down on me like a ton of bricks." But she's prepared. "In the unlikely event that either of these things happens, I'll just say I forgot. I'll just say I made it all up." She waits for justice to catch up with her, as solemn and funny as Alec Guinness's character on the lam with his ill-gotten gold ingots in "The Lavender Hill Mob" (1951).
And that brings me to my own confession. "The Lavender Hill Mob" was one of my father's favorites, and I read Hellenga as the East Coast born and bred daughter of two Midwesterners, two Knox College alumni. Galesburg, Illinois, may be for most an unlikely Shangri-La—just a whistle-stop on an Amtrak train—but for my parents it was where their world began.  I visited the campus twice: as a child when we made a stop on our cross country trip, and years later, attending what would have my late father's sixtieth class reunion. On that occasion, I briefly met Robert Hellenga (who looked just as craggy and professorial in person as in photographs). Blues Lessons (2002) had just been published. I had him sign a copy for my daughter—a student at The University of Chicago where scenes in that book take place.
My father introduced me to the different but delightful books of another Knox College author, Jack Finney, author of Time and Again (1970). I wish I could return the favor and introduce my dad to Robert Hellenga's work. Like many Midwestern men of his era, my father was a staunch advocate of never taking yourself too seriously, of laughing in the dark. Frances Godwin says the problem with autobiography is "you can never get ironic distance on yourself." Well, she, with Hellenga as her ghost writer, succeeds at obtaining the necessary slight remove to see things slant. My dad would have approved. Hellenga treats heavy matters with a deft, light touch—but packs a punch.