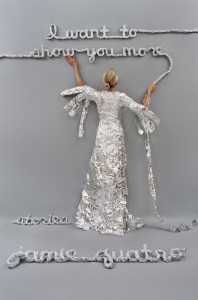 This week's feature is Jamie Quatro's debut collection, I Want to Show You More, which was just published by Grove Press. Quatro's work has appeared or is forthcoming in the PEN/O. Henry Prize Stories, Tin House, McSweeney's, Oxford American, Ploughshares, The Kenyon Review, and elsewhere. A finalist for the Katherine Anne Porter Prize in Short Fiction and the winner of the 2011 American Short Fiction Story Contest, she is the recipient of fellowships from Yaddo and the MacDowell Colony, and was the Georges and Anne Borchardt Scholar at the 2011 Sewanee Writers' Conference. She holds graduate degrees from the College of William and Mary and Bennington College, and lives with her husband and children in Lookout Mountain, Georgia.
In her recent review of the collection, Assistant Editor Rebecca Scherm writes:
Most of Quatro's astounded new readers are agog over the same linked septet: the adultery stories. While the whole collection is thematically tight-knit, these stories in particular reward a reader's deep attention. Quatro's recurring heroine, the married mother of four in love with the Other Man, asks God again and again to clarify his requirements. She struggles to reconcile what feels necessary and right in her full-blooded life with a faith that seems to condemn it. What feels different here is the line Quatro draws between private, interior faith (her certainty that someone is up there watching) and religion, or how other people interpret God for her. But over the course of these stories, a conviction emerges: faith and lust are not unalike. They share irrational belief and desire, the pain and patience required to withstand want that cannot be satisfied, and, of course, the reliable aortic pulse of guilt.
We're happy to announce that we'll be giving away a copy of I Want to Show You More to three of our Twitter followers. To be eligible for this giveaway (and all future ones), simply click over to Twitter and "follow" us (@fictionwriters).
To all of you who are already fans, thank you!
---
---
Links & Resources