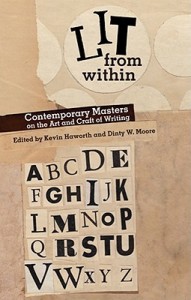 This week's feature is Lit From Within, edited by Kevin Haworth and Dinty W. Moore. Published this year by Ohio University Press, the book is a multi-genre craft anthology that, in the words of the editors in the introduction to the book, "has its origins in the Ohio University Spring Literary Festival." They go on to describe the goal of the anthology, saying, "What we have tried to do, in this collection, is to reflect the level of the conversation about poetics and the craft of writing that has taken place over the Lit Fest's twenty-five-year history."
Contributors include Charles Baxter, who writes on pockets of silence in fiction in his essay "Stillness"; Robin Hemley, who, as a memoirist, writes on the unhelpful genre distinctions that exist between styles in his essay "Confessions of a Navel Gazer"; Francine prose, who writes on the subtleties and importance of gesture for character development in her essay "Gesture"; and Maggie Nelson, who writes on fact and the documentary process in poetry in her essay "All That Is the Case." The book also contains work by such authors as Ron Carlson, Billy Collins, Peter Ho Davies, David Kirby, Claire Bateman, Tony Hoagland, Carl Dennis, Mary Ruefle, Lee K. Abbott, Rick Bass, and Stephen Dunn.
In his recent guest blog post for Fiction Writers Review, co-editor Kevin Haworth talks about how a multi-disciplinary approach to teaching and thinking about writing can be helpful both at the level of the individual and that of the community. He writes:
The academic world of creative writing continues to grow, but at the same time, in many ways, it is becoming more compartmentalized. People apply to MFA programs as a poet, as a fiction writer, etc., pledging allegiance to one strand of DNA over another. Some of this is function necessary to run institutions—we need to be able to predict how many students will be studying with the poetry teachers, how many with the nonfiction teachers, and so on, to spread the work equitably and to give each student relatively equal access to their professors. But that same bureaucracy can create its own set of meanings, and not necessarily for the better, if students define themselves primarily in opposition to the other genres, rather than as a community of writers.

It was this belief in the benefits of multi-genre conversation that led to the anthology Lit From Within. Our goal for this collection of essays about writing was—and is—to break down these divisions and remind each other of the ways that writing, of any genre, speaks to all of us. In soliciting essays from writers such as Ron Carlson, Tony Hoagland, Rick Bass and others, Dinty W. Moore and I set out to recreate the kind of exchange that occurs when great writers are put together in the same room, regardless of aesthetic preference or school of thought; to find the connections that emerge when say, a Francine Prose essay on creating fully-realized characters (in fiction) is followed by a Billy Collins essay on creating fully-realized personas (in poetry). As Robin Hemley writes in one of the book's first essays: "The altar at which I worship is unabashedly dedicated to the ambiguities of artistic expression, regardless of genre." We write to find ourselves in these ambiguities, embrace them, make them our own.
To read the rest of Kevin Hawoth's guest blog for FWR, please click here.
For more on this topic, read Kevin Haworth's wonderful craft essay for Glimmer Train's Bulletin "Reading Beyond Genre."
For more on Lit From Within, please visit Ohio University Press.
You can also win one of three signed copies of this book, which we'll be giving away next week to three of our Twitter followers.
To be eligible for this giveaway (and all future ones), simply click over to Twitter and "follow" us (@fictionwriters).
To all of you who are already fans, thank you!