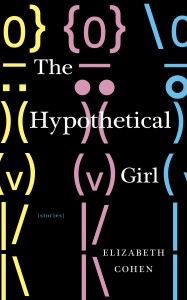 This week's feature is Elizabeth Cohen's story collection The Hypothetical Girl, which was published by Other Press. Cohen is the author of The Family on Beartown Road: A Memoir of Love and Courage (Random House, 2004), which chronicles Cohen's life raising her young daughter and taking care of her father as he struggles with Alzheimer's disease. It was a New York Times Notable Book of the Year. She is also the author of numerous collections of poetry, including What the Trees Said (2013) and The Economist's Daughter (2011). She is an Assistant Professor of English at SUNY Plattsburgh and she also regularly teaches fiction and nonfiction at Gotham Writing Workshop. She lives in upstate New York with her daughter.
In the introduction to her recent interview with the author, Assistant Editor Claire Skinner writes of this collection:
Each story, in one way or another, has to do with the peculiarities of online romance. As I read, I saw each story as a kind of date, a blind date to be exact, and the risks, I felt, were high: I could fall in love, I could get my heart broken—anything could happen, and, in these stories, anything does happen. This all makes for a breathless, exciting reading experience—or, if you're anything like me, a reading binge. I couldn't put down this book. I liked being privy (Peeping Tom-style, but without the weirdness) to the interior lives of women and men on the quest for love, in all its wild and unexpected iterations.
We're happy to announce that we'll be giving away a copy of The Hypothetical Girl to three of our randomly selected Twitter followers. To be eligible for this giveaway (and all future ones), simply click over to Twitter and "follow" us (@fictionwriters).
To all of you who are already fans, thank you!