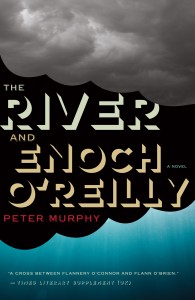 This week's feature is Peter Murphy's new novel, The River and Enoch O'Reilly, which was published this week by Mariner Books. Murphy is a writer from Enniscorthy in Co. Wexford, Ireland. His first novel John the Revelator was published in the UK and Ireland by Faber & Faber and in the US by Houghton Mifflin Harcourt, and was nominated for the 2011 IMPAC literary award, shortlisted for the 2009 Costa Book Awards and the Kerry Group Fiction prize. His second novel, Shall We Gather at the River (2013), is published by Faber in Ireland and the UK and as The River and Enoch O'Reilly in the US. He is also a founder member of the spoken word/music ensemble The Revelator Orchestra, whose first album The Sounds of John the Revelator was released in October 2012.
Yesterday we were proud to publish a fictional review of an imaginary anthology of songs about the Rua river, which was removed from Murphy's new novel at the draft stage. He says in an author's note preceding the feature:
I always liked the piece, but in the end decided to take it out of the book as the "non-fiction" nature of the writing interrupted the narrative flow. I'm delighted to see it reproduced here, as I think it adds an extra element to the book's universe, a whirlpool of riverology and lost songs.
We're happy to announce that we'll be giving away a copy of The River and Enoch O'Reilly to three of our Twitter followers, plus three copies of Peter's first spoken word album, "The Sounds of the Revelator Orchestra," based on his first novel, John The Revelator, to accompany the books. We hope this bonus makes our giveaway a little extra-special this week!
To be eligible for this giveaway (and all future ones), simply click over to Twitter and "follow" us (@fictionwriters).
To all of you who are already fans, thank you!