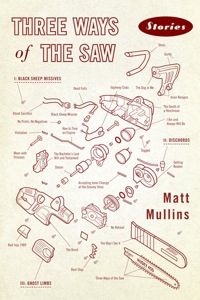 This week's feature is Matt Mullins's debut collection, Three Ways of the Saw, which was just released by Atticus Books, a small literary press in Maryland that specializes in "genre-busting literary fiction—i.e., titles that fall between the cracks of genre fiction and compelling narratives that feature memorable main characters." Mullins is a writer, musician, experimental filmmaker and multimedia artist. His fiction and poetry have appeared in such places as Mid-American Review, Pleiades, Hunger Mountain, Harpur Palate, Descant, Hobart, as well as other print and online literary journals. He is an Assistant Professor of Creative Writing at Ball State University, where he is a faculty fellow with BSU's Emerging Media Initiative.
Managing Editor, Lee Thomas, opens her recent review of the collection this way:
I went through a phase right after college where I listened to the Ryan Adams album Heartbreaker, a lot, until the CD scratched. I can beat an album until it's dead, and press on until the bones stand up and dance again. Say what you will about nostalgia, music will fix time and place like nothing else.

There's music to the stories in Matt Mullins's debut collection, Three Ways of the Saw. Nostalgia and longing that gets into the bloodstream and won't let up until you see it through. The press materials from Atticus Books, a plucky indie press publishing some really fine new writers, liken Mullins to Cormac McCarthy, but that's an imprecise shorthand. McCarthy's work runs on epic rails. But within 230 pages, Mullins whipsaws through twenty-five intimate stories that leave you with snatches of lyrics and minor chords pounded hard and ringing in your ears.
To read the rest of this review, click here.
Check out the author's recent works of interactive/digital literature on lit-digital.
You can also win one of three, signed copies of this book, which we'll be giving away next week to three of our Twitter followers.
To be eligible for this giveaway (and all future ones), simply click over to Twitter and "follow" us (@fictionwriters).
To all of you who are already fans, thank you!