Hello again, FWR friends. Welcome to the latest installment of our "First Looks" series, which highlights soon-to-be released books that have piqued my interest as a reader-who-writes. We publish "First Looks" here on the FWR blog around the 15th of each month, and as always, I'd love to hear your comments and your recommendations of forthcoming titles. Please drop me a line anytime: erika(at)fictionwritersreview(dot)com, and thanks in advance.
---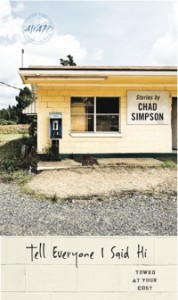 I can't say I wasn't warned that Chad Simpson's essay, "An Epilogue to the Unread"—which connects the illness and passing of Simpson's mother, her love for reading, examples of generosity in our sometimes not-so-nice literary world, and some mention of Simpson's own forthcoming collection—would hit me in the heart. But I didn't expect to experience the urgency that drove me to pre-order said collection, Tell Everyone I Said Hi, once I reached the essay's end.
Tell Everyone I Said Hi won the 2012 John Simmons Short Fiction Award, and, as such, it will be published by the University of Iowa Press early next month. (Fellow fiction writers may find some inspiration in the discovery, via Simpson's website, that the author submitted the manuscript to other contests, too. Remember, folks, you only need to win one!) Simpson's site is also where you can find a book trailer and praise from Jim Shepard, Peter Orner, and Justin Torres.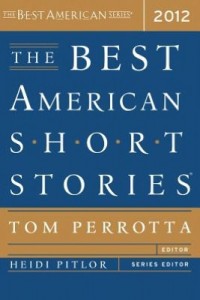 And speaking of short stories: We're approaching that time of year again—time to unveil the annual Best American Short Stories anthology, a series published by Houghton Mifflin and edited by Heidi Pitlor. The guest editor for the 2012 volume is Tom Perrotta. I always anticipate the editors' introductions to these volumes—and the reflections on fiction, short stories, and literary publishing that they typically contain—with at least as much interest as I await the stories themselves. How about you?
---
Further Resources
This release from the University of Iowa Press announces the winners of the 2012 Iowa Short Fiction Award: Chad Simpson and Marie-Helene Bertino, about whom you'll learn more here on FWR in due course.
Tom Perrotta will present The Best American Short Stories 2012 in "Selected Shorts" at New York City's Symphony Space on Wednesday, November 7.