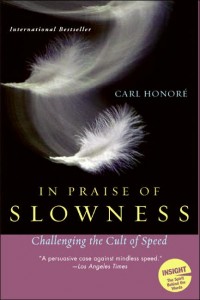 I'm a few days behind, so forgive the belated announcement: HuffPo Books is now live, and its content so far – a mix of blog posts and multimedia features (some interactive) — looks exciting! On Oct. 6, Arianna Huffington announced her first book club pick, a 2004 nonfiction title from HarperOne: In Praise of Slowness: Challenging the Cult of Speed by Carl Honore. Read why she chose it and learn more about her selection process and book club goals. It seems that many in the HuffPo community have been inspired by this book and the slow movement it explores; in this ensemble post, they offer tips for how to "unplug and recharge". It seems like a thoughtful decision and a book that will ignite some great discussions–and I hope publishers will bestow HuffPo Book Club stickers on its next printing!
For Arianna's next pick, I'm rather selfishly crossing fingers and toes for a fiction title, one that would, in HuffPo style, also promote discussions about current political, environmental, or social issues. In the meantime, additional book recommendations, which henceforth will be known as Huffington Post Editor's Picks, have been posted by the HuffPo staff. Vote on which of these books you'd like to read, and if you want to recommend a title to the list, participate by uploading its cover image.
Bonus: FWR Contributing Editor Celeste Ng is one of the new site's writer-bloggers! Here's a direct link to her first post, "More Ways to Be Happy, or Why There's No Need for Handwringing".
Other recommended posts/features so far:
– Five book trailers that might actually be worth the hooplah.
– Via the NYR, excerpts from Hilary Mantel's Booker Prize winning novel, Wolf Hall.
– Geoffrey Jennings articulates why there's no online replacement for a one-on-one conversation with your local indie bookseller.
– Jesse Kornbluth reviews Philip Roth's The Humbling, calling it "his best book in years."
Scrolling through, I found a lot of great stuff to read, but there was one post that I — despite agreeing with much of what its author said — would like to quibble with; I'll post about that after the weekend…
[EDITOR'S NOTE: 2:48 PM – While Celeste's post is searchable and up on the HuffPosite, it won't be officially posted until Tuesday.]