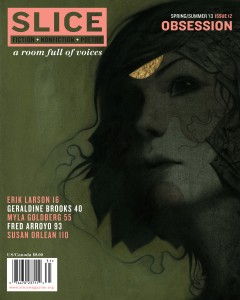 This week's feature is Slice Magazine, which was co-founded and remains co-published by Maria Gagliano and Celia Blue Johnson. The two launched their Brooklyn-based literary magazine in 2007, back when they were both twenty-three-year-olds working long hours in the demanding publishing industry and dreaming big dreams about running a magazine. Today, Gagliano and Johnson are both accomplished editors, publishers, and writers.
The current issue of Slice features work by two of FWR's Contributing Editors: Joshua Bodwell and Steve Wingate. So FWR's editors sat down with Gagliano and Johnson to chat. In response to a question about the diversity of the writers featured in the newest issue–from emerging writers to such established great as Geraldine Brooks, Myla Goldberg, Erik Larson, and Susan Orlean–the editors reply:
It has always been our mission to bridge the gap between emerging writers and established authors. The magazine evolved out of our discontent with commercial publishing, where, by the very nature of the business, an author's platform often has more value than raw talent. We wanted to establish a space where new writers exist alongside literary legends.
We're happy to announce that we'll be giving away a copy of Issue 12 of Slice magazine to three of our Twitter followers. To be eligible for this giveaway (and all future ones), simply click over to Twitter and "follow" us (@fictionwriters).
To all of you who are already fans, thank you!
---
Further Links and Resources: