New on the lit blog scene is the very fun Lit Drift, a self-described "resource and community dedicated to the art & craft of storytelling in the 21st century."
Our name is a nod to how traditional forms of storytelling are, well, drifting into forms wholly new and unexpected. We're interested in sifting through the palimpsests known as the Internet, the arts, and the in-between to uncover those new forms and techniques in constructing fiction. We believe that literature should be fun in an age when it's only too easy to turn on the TV and watch shitcoms instead. We also believe that changing technologies and cultural trends can liberate fiction rather than oppress it. We believe that everyone—yes, everyone—should take pleasure in creating their own fiction, and we want to help our readers tell the best stories they possibly can.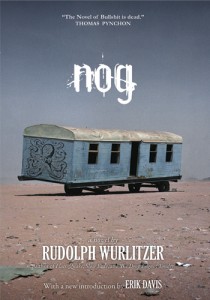 Among the site's offerings so far are inspirational (in the writing way) cartoons — aka flarf — and some helpful advice if you're not good at just sitting down and writing. It also features daily writing prompts and featured short stories, and once a week there's a free book giveaway (Free Book Friday, sponsored by Two Dollar Radio). This week you might score a copy of Nog by Rudolph Wurlitzer.
And, bestill my heart, Lit Drift has a theater category!