To many individuals across the country, the Midwest might have been thought of as a pretty tame place: wide fields of crops, thick wooded forests, and a bevy of people milling around in hope of some coastal-style action. But after the 2016 election, it has become obvious to the rest of the nation that the Midwest is no quiet land of peaceful minds. Instead, the Rust Belt is teeming with passion, raring to thrust itself from the sidelines right onto the center stage.
There is a gamut of emotion here in the heartland, from the wildly ambitious to the broken and disheartened, and all of these feelings are captured with pinpoint accuracy in Laura Hulthen Thomas's collection, States of Motion (Wayne State University Press, 2017) which was recently selected as a finalist for the 12th annual National Indie Excellence Book Award for short stories by Foreword Reviews. Though each of the fourteen stories collected in this book have something unique to say about the country and modern times we live in, the piece "Sole Suspect" is the one that truly captures an America that I feel so perfectly reflects our society.
"Sole Suspect" is, at heart, a story about our singular modern loneliness and paranoia in the Midwest. Eschewing the typical tropes of a psychological mystery, Thomas focuses her attention instead upon Perry, an older man struggling with the grief of the 20-year-old disappearance of his daughter, Elsa. The whodunit here is secondary to the emotional focus of Perry's roller-coaster of ruminations that he experiences over the course of one evening before the final verdict on his daughter's death is delivered. Perry has long held out some weak hope that his daughter merely ran away two decades ago, wishing that she found some better life after his wife and her mother, Ellen, abandoned them and later died.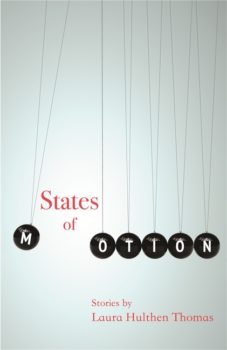 At the onset of the story, Elsa's body has been discovered in a lake, unearthed by some freak weather that only heightens the sense that something is quite amiss in this contemporary Midwest. It appears that his teenage daughter and her young friend died by accidental means, putting to rest the suspicion that has long been cast on Perry himself. But while he awaits the final identification from the coroner, Perry encounters a familiar sight on the road during a late-night drive through the rural Michigan countryside: a man sitting in the middle of the road waiting to be hit by a car. Perry, unwilling to fulfill this man's cosmic death wish, pulls over and takes the man home, as he has done many times before. On this emotional night, though, he decides to speak to the man, breaking his self-imposed cone of silence.
It is here where Thomas shines. She captures so beautifully the isolation that many feel in an increasingly cloistered Midwest, the desperation we all experience in our teeter-totter of needs and wants. Many of her characters live in a world of obsessions and suspicions, like so many eyes peering down rural suburban streets, but her main character is a man one step ahead of this world. A man who resides in his grief, and though he has come to terms with his loss, he is haunted by specters of his lost daughter, watching as her ghostly image smokes a cigarette and nibbles a strawberry in a nearby grocery store parking lot, only to vanish as he draws close. Thomas's Midwest is one of spirits, where the dead of the past live on and forever influence the future. In Middle America, we often hold on to our dead and the precious memories of them, contemplating the who, what, where, when, and why all the more dearly, allowing them to guide our physical and mental landscapes.
"Sole Suspect" is also a meditation on the psychological trauma of loss, both in terms of Perry's quest for some absolution, as well as in his understanding of the mystery man's wish to be killed by Perry's speeding car. The reader is propelled forward by the itching need to understand this mystery man's unusual desires, but also because of our yearning to make this connection that Perry has to his grief—this all-consuming perspective he seems just on the cusp of acquiring in his wildly changing world. Many of us live a certain way for many years of our lives, then something happens to force us—and the community around us—to change our views. For Perry, this should be a welcome change—a release and a catharsis that few who suffer traumatic episodes experience, and yet, there's a sign of something else at hand.
In the story's conclusion, we get what this bigger picture is, and Thomas expertly weaves the threads of her story together with a dynamic twist. The separate becomes the whole, and while we don't get a bow wrapped on the whole package, what we get is a shared understanding with Perry and his plight, and in the end, that's what a truly engaging story offers: not what we want, but what we need.