Editor's note: As part of our celebration of Short Story Month, we're delighted to re-publish a 2011 guest post by Dan Wickett, founder and editor of the Emerging Writers Network, co-founder of Dzanc Books, and creator of Short Story Month.
---
In early April of 2007, I was celebrating National Poetry Month at the Emerging Writers Network blog by taking a look at the poems of the day being posted by the Writers In The Schools (WITS) program of Houston, which had been written by 4th graders. It was a fun project, but readers of the EWN know that fiction is much closer to my heart than poetry. And by the end of the first week I had begun to wonder why there wasn't a National Short Story Month. So I decided that May was going to be it, at least at the EWN, and I announced plans for the celebration.
Within a week, several other blogs had linked to that post and declared they were planning on joining in the discussion too. I posted on stories by Steven Gillis, a pair by Aaron Burch, and those in Brad Vice's new collection, as well as on many others. Highlights included getting one more chance to tout the work of Kellie Wells and Erin McGraw, two favorites of mine with new stories out at the time. And I began to notice that readers commented at a higher rate than typical during the month, reinforcing the idea that this was something that our audience wanted and enjoyed.
The next spring, I decided I would increase the volume to two posts a day—one about a story read in a collection and another about a story read in a journal. Including those written by guest authors, we published 178 posts during the 31 days of the month in 2008. But it was almost as exciting to see the celebration picked up by other blogs and journals like Hobart, StoryGLOSSIA, Ninth Letter, American Short Fiction, and others, as it was to be a part of the conversation happening on the EWN.
In 2009, I decided to up the ante again, despite the fact that I had bitten off more than a mouthful the previous year. But I wanted to expand our story reviews so we'd have one each day from a collection, a print journal, and an online journal. Perhaps I was trying to make up for 2008, which got a slow start because I'd had to be reminded at the beginning of May that I'd made the declaration of it being National Short Story Month! But either way, we had another great month of posts about the short form. We also got nice attention from such places as Poets & Writers, The Story Prize blog, Readerville, and, of course, Fiction Writers Review.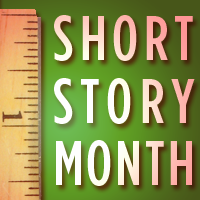 Last year we changed gears a bit. In addition to the normal posts, we had a cabal of short story fans look closely at two new collections—one by Alyson Hagy (Ghosts of Wyoming) and another by Pinckney Benedict (Miracle Boy and Other Stories—story by story, covering the entirety of the books. And 2011 will bring more posts, guest posts, and who knows what else. I've already had half a dozen people ask for the 2011 Short Story Month banner (created, as usual by, Steven Seighman), and so you can expect to see discussions of short stories all over the web this month. You can look for my own posts at the EWN and the Dzanc Books blog.
It's been very cool seeing what now seems like a somewhat rash decision (though apparently one that had been bandied about by Larry Dark of The Story Prize before my own thoughts took hold) not just taking root but already lasting to its fifth year. Maybe short stories aren't a thing of the past or a form that nobody cares enough about to publish collections. Based on the above, it seems there's a solid audience for them still.
---
Dan Wickett founded the Emerging Writers Network in 2000, co-founded Dzanc Books with Steven Gillis in 2006, and edited Visiting Hours (Press 53, 2008).