Yang Huang's story collection, My Old Faithful, winner of the 2017 University of Massachusetts Press Juniper Prize for Fiction, is an intimate examination of family life in modern China. In linked stories, Huang's writing delves into human questions that are both bound to and transcend culture.
I first met Huang in the woods of Vermont where we attended the same Bread Loaf workshop, nearly a decade ago. I was immediately struck by the sharp intensity of her prose and her ability to find the intricacies and beauty in even the most seemingly insignificant family story. Her writing asks us to examine ourselves, our surroundings, and our relationships in a way that feels very necessary, especially in today's sociopolitical environment.
We held this interview during Huang's book launch at The Bindery in San Francisco and at her East Bay launch at Mrs. Dalloway's Literary and Garden Arts in Berkeley. This is an edited transcript of that conversation.
Interview:
Kaitlin Solimine: You've said that this book took a long time to reach publication. What inspired this book, and what does it mean to you to publish this book today?
Yang Huang: Family is a perennial subject with intimate and unresolved issues. I modeled the stories on my family and other families I knew during my teen years. We used to live in a community of six apartment buildings. The residents were professors' and staff's families at Yangzhou Teachers' College. My parents, like all Chinese parents, compared my brother and me to our schoolmates who excelled in studies or had special talents. It was normal for us to have anxiety and feel inadequate.
Finally I could write about these people who made my teen years difficult. It was gratifying to dissect a character from every angle in a way that I couldn't do to a real person. I was drawn to their moments of weakness, when an outwardly decent person makes a bad decision. Working through this collection gave me valuable insights about the family life with adolescents. Now my children are teenagers. I found those experiences a helpful reminder that each generation has to find their way, as your child transforms from a caterpillar to a butterfly overnight.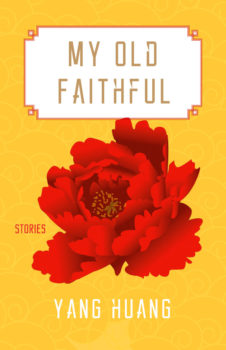 In the story "Chimney," the father says, "I had raised a family to be a haven during the time of turmoil." This collection is about family but more specifically, it seems, about the role family plays within wider sociocultural forces. Why did you choose to focus so deeply on the meaning of family, and what does family mean to you?
Family is an integral part of survival for Chinese people throughout the history of wars, natural disasters, and political upheavals. Every person has a public life as well as a private side. Family is where a person's public life intersects her private life. When I was young, I was fascinated by my mother showing two faces to her colleague and us. At first she was smiling at her colleague and looked so cheerful. As soon as that person turned his back, she frowned at us and looked so despondent, and blamed us for her missing out on career opportunities. At a young age I took it to heart that my parents had made great sacrifices for us, a view that my American children don't hold. They believe that they have enriched our lives, which is certainly true.
The family where I grew up was parent-centric, meaning that the parents' expectations dominated the relationship. We strived not to let our parents down. My own American family is children-centric. We tiptoe around our teenage children and try to understand the world through their eyes. In a way I get the short end of a stick. I am responsible for my parents' feelings, while my children don't have to be concerned with mine. On the other hand, I'm also nurtured by both sides. My parents helped me babysit my children when they were little. Now I can experience the American teenage life vicariously through my children. As I navigate two different families, there have been some good days and also bad days!
In several stories, like "Pining Yellow," materiality and desire for wealth/material goods is a strong driving factor for the characters. What does this mean to this family, particularly in the context of modern Chinese history?
To acquire and accumulate material wealth is every person's mission in life. There was a time when most people were poor. But after the Cultural Revolution, people had more means and freedom to acquire material wealth, so poverty was frowned upon as an indication that the person was lazy, incapable, or shortsighted. There is a saying, "You don't disrespect a prostitute, but you look down on a poor person (even if he is a professor)."
In the world of My Old Faithful, the materialism only begins to rear its head. People can choose whether to succumb to the pressure of "getting rich." Having more children poses a heavier burden on the family. Since contraception is readily available, endorsed, and even forced by the state, the parents' decision to have more children shows their moral value. As government employees, the parents have health care and pensions and don't have to rely on children to care for them in their old age. So they sacrifice a comfortable life by having a big family and also subject their children to the same burden. The children get fewer material things, attention, vacation, so on and so forth. Their dilemma is similar to what many American families face today.
I was immediately struck by the very strong sense of voice in each of these stories—it's therefore not surprising that the stories are all written in the first-person POV. Please share with readers your thoughts on the first person and on voice in writing as you do this so wonderfully!
For each story I started with a character, about whom I was curious, and wrote about the defining moment of his/her life. I usually had a metaphor in place, which is the title. I let the metaphor simmer inside me until it became my passion. This drove me to discover the events and trajectory of the story.
I happily went overboard with my research. I read 20 nonfiction books on dogs for "Pining Yellow" and watched dog-themed films. I also read the similarly themed fiction to become familiar with a new subject matter. For example, I read Ian McEwan's incest stories to understand a teen boy's psychology. Most of the material wasn't used in the story, but I constructed a world in my mind where the story takes place, like building a movie set. Then I was able to inhabit that space, live their story, move and see the world through their eyes. The voice came when I became the character. The so-called plot emerged organically out of the non-fiction material, so it felt like a real life I had lived. I didn't have to force the characters to act in a certain way. Eventually, they revealed themselves to me.
In the story "My Old Faithful," the matriarch says, "It's not easy to be a woman, old or young, and yet we can make the best of it." Gender plays such an important role in all of these stories—what is it you're saying about gender roles in China and, at the same time, what does it mean to you to be a woman writer today?
Feminism flourished during the Cultural Revolution; as Chairman Mao said, "Women hold up a half of the sky." Girls outperformed boys throughout my school years in all subjects including math, science, and engineering, which were traditionally considered the male territory.
Yet there is a chasm between aspiration and reality in a patriarchal society. Women are routinely discriminated in the workplace. Some female doctors and teachers cannot find jobs, despite their stellar academic achievements, because women would take maternity leaves. Some of my highly educated female schoolmates decide not to have children because they don't want to lose their hard-earned jobs. Others send their only children to be cared for by grandparents, bring the children back at school age, and quickly ship them off to boarding schools, in order to fulfill their duties as mothers and career women. The need to have it all means that a woman has to rush through her life and make compromises every day.
Let's not overlook the biological side of a woman's life. Childrearing and aging reduces a woman's "market value" in a highly materialistic society. How does a woman navigate the treacherous terrain and find her self-worth and happiness? The mother considers herself fortunate to have devoted her best years to a family life, but she pays a personal price. Losing her uterus, her femininity, while a young prostitute chats up her husband for potential business, is a frightening moment. As a writer, I want to capture her emotions when different forces are thrust upon her. I'm not there to judge or help her but simply walk with her on this journey.
People are more similar than different, if you describe them precisely.
As an immigrant writer living under a Trump presidency, you've chosen to write in English but with stories situated in China. What does it mean to you to write for an English-speaking audience and to publish in the US? What responsibilities do both writers and readers have in this regard?
I was fed up with political propaganda. As a teenager I found relief in reading the nineteenth-century French novels in translation. They opened my eyes and gave me hope that literature could be about ordinary and flawed people, rather than a tool for political agenda. I adored Victor Hugo and Balzac and dreamt of moving to France and writing in French. In 1980s there was an explosion of Western literature and philosophies in translation. This ended with the Tiananmen Square massacre.
I came to the States as a nineteen-year-old engineering student. I had a lot of stories in me, which had never been put into words, in Chinese or English. I have always been an observer and accepted that life is unfair, but a writer can create a more just world in books by shining a light on that injustice. To me that's empowering. I want to become that kind of storyteller. The Chinese language is bound with intricate, historical, and deeply ingrained censorship. I have always wanted to write in a second language, so I chose to write fiction in English.
I started writing in English decades before the Trump presidency. I think writers should take a long-term view of the history. Having grown up with propaganda, I am suspicious of overtly political writing. On some level all writings are political. So this makes it even more urgent that writers don't distort the world to fit a political agenda. We want to create literature with lasting value, which will remain relevant long after Trump is gone.
I had good role models. Looking back I was influenced by Sherwood Anderson's collection Winesburg, Ohio and Louise Erdrich's beautiful book Love Medicine. The cultural details are not a hindrance but a veil that you lift to show the human face that we recognize. When I read Winesburg, Ohio, I thought the characters were my neighbors in Yangzhou. People are more similar than different, if you describe them precisely. I want to tell stories with a rational view of families, nature, and aspects of society that impinge on individuals.
Love and sexuality feature quite prominently in a number of your stories and the collection as a whole features as a "coming of age" narrative both for the individual characters and China more broadly. As such, what do you see as the growing pains for your characters and China?
The sexuality I depicted in My Old Faithful is fairly conventional and universal. Sexual desire is the prelude to a committed relationship. Brother is the only person who has a wayward experience. In a way he pays a price for his misdeed. At the end of the book, he is not in a meaningful relationship.
I also saw awakening to one's sexuality as the step to disengage from your birth family. From then on a person takes responsibility for his/her action. Your parents may still protect you, as the father does in "The Umbrella." But your destiny is in your own hands. For example, Lian fights back against her brother's molestation and chooses not to tell her parents. She moves past his betrayal and befriends a boy outside home, and even has a crush on her high jump coach. This spirited woman is not a victim but makes her way toward a new life. She goes to the US and brings a brown man home to meet her conservative parents. For people in this family, sexuality is about growing up, growing old, losing and finding oneself.
Finally, you've spoken a lot about your navigation of motherhood, a successful career, and writing. How have these diverse identities impacted your writing and what do they mean to you?
I work at UC Berkeley as a computer engineer. If I do a good job, everything runs smoothly and nothing goes wrong. Then people don't know who I am. I'm invisible. My day job is very different from writing—it's technical work behind the scene.
Writing fiction requires me to take risks and put myself out there. As a writer I have a rather optimistic worldview. I like to tackle social problems in my fiction, put my characters to the test, let them endure, and in their darkest and most despairing hours, let them use their ingenuity (much like an engineer), and find some sort of relief or solution—not a cure-all, but a way out, so that they can move forward to rebuild their lives.
My family life nurtures me as a person, but I have to be disciplined. In order to write well, I try to separate writing from my personal life. My writer persona is different from my real-life persona. In daily life, I am very organized, reliable, and conscientious. I multitask, set priorities, and deliver results on time. My persona changes when I retreat into my writing life. On the weekends, I go to the cave. It is just my desk behind a closed door, but it's the place where I permit myself to be a writer. I sit for long hours in a hard chair with a large pillow at the back. By making my body still and my mind quiet, I enter a mental space where imaginary characters can come out and play, as if I have no worldly responsibilities but all the time and leisure for make-believe.
For decades I have kept my head down and done everything necessary to keep writing. I believe in grit and resilience, both in life and in writing. On the surface fiction has little to do with resilience. You want to push the characters to their breaking point, but in order for the writer to get to that point, she needs to be resilient and persevere, unfazed by life and setbacks, so she can arrive at the precipice on the characters' behalf. The undercurrent of her life will contextualize her story but should not overtake it. This makes the fiction more interesting and true to life than a mere release of one's passion.