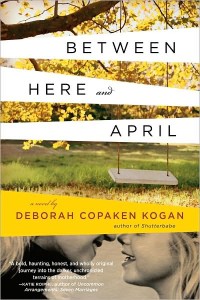 Nearly ten years ago, a galley arrived in my mailbox for a new memoir called Shutterbabe, by former photojournalist Deborah Copaken Kogan. It came as an assignment for a grad program I was about to enter, one of many pre-class exercises sent out to our tiny band of pretentious but eager wannabe publishers. I plowed through it in one sitting, giddy at the realization that not only was this program sly enough to send us a trick assignment, but I was sharp enough to catch it. Because there was no way this was a real galley, headed for publication…
Of course, Shutterbabe went on to become a national bestseller, and I went on to become someone who does not work in publishing. So what do I know?
I know one thing for certain: Kogan's latest literary effort, the novel Between Here and April (Algonquin, 2008), is a far, far better book. Equal parts murder mystery and book club darling, it's the story of Elizabeth Burns, a former journalist turned urban mom, who goes looking for answers about the long forgotten disappearance of a childhood friend (the titular April) and winds up tangled in questions she hoped never to answer.
Through a trail of newspaper headlines, personal memories, interviews, and transcripts of psychiatry sessions, Elizabeth pieces together the story of Adele Cassidy, April's mother, and ultimately, her killer. It's a chilling story, made all the more treacherous by how much Elizabeth is able to relate to her struggle. Midway through the book, the overarching question is no longer "how could a mother kill her own child?" but rather, "how could no one see this woman was standing at a precipice?"
When Kogan sticks to Adele's story, the pages fly. The first half of the book is smartly crafted and absolutely haunting. Unfortunately, the ghost of Shutterbabe sneaks in somewhere in the second half, and Elizabeth, understandably shaken by her discovery, contemplates temporarily quitting her life in favor of a freelance assignment in Baghdad with her old lover, a roguish French photojournalist. Stop me if you've read this one before and thought it was a trick assignment.
Suffice it to say, Kogan's tightly wound thriller begins to unravel once it abandons the central story in favor of a guided tour of Elizabeth's psyche, which reads like the spring lineup on Lifetime. Working Mom Guilt. Infidelity. Postpartum Depression. Neglect. Rape. Domestic Unrest. And don't even get me started on the workaholic husband with fuzzy handcuffs and unfulfilled bondage fantasies.
By the end, the book's focus has shifted so far from the inciting incident that it doesn't seem to matter why Elizabeth started down this path in the first place. And that's a shame, because not only is Adele's story worth investigating, it's worth reading. I only wish that Kogan had given us more fiction and less memoir.