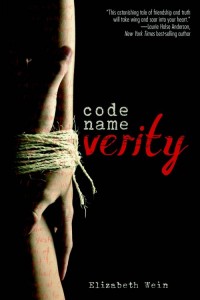 With her latest novel, Code Name Verity, Elizabeth Wein pushes the limits of the YA genre. The novel's protagonists are young adults, yes, but its content—graphic torture, Nazi interrogation, mercy killings—paints the landscape of a brutal world, far from the dreams of children. Save for the typically large YA font size, Elizabeth Wein's tightly paced, intricately researched WWII novel, bordering on historical fiction, hardly hints at its intended YA demographic.
When best friends Maddie, a female pilot, and Julie, a female spy (the titular "Verity"), crash their British plane into Nazi-occupied France, the drama begins. Captured by Gestapo officials, Julie is given two weeks to write "every last detail" of what she knows about the British war effort, the threat of execution looming large on the horizon. But remember, Julie is a spy, trained for this type of situation.
As she bleeds her history onto scraps of paper, she weaves a fascinating and complex story—not only about the war, but about her life, Maddie's life, and the fierce strength of their friendship, forged at a time of seemingly insurmountable obstacles. "We made a sensational team," she writes, and we instinctively believe her, well before reaching the payoff at the end of the book.
Code Name Verity is not an easy novel, but it is a beautiful written, worthwhile journey for a more mature audience. Although its protagonists may exist at the cusp of adulthood, their struggles, tragedies, and unexpected triumphs exist well outside the traditional boundaries of the genre. Wein is a masterful storyteller, and Code Name Verity is a story that deserves reading.
---
Extra